There probably hasn't been a death-defying escape quite like the one witnessed by thousands of delirious Bears fans Sunday at Soldier Field since Harry Houdini was alive.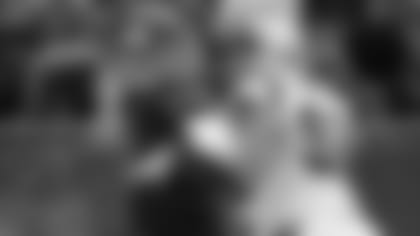 In the fourth quarter of Sunday's win, Jay Cutler completed 12 of 14 passes for 106 yards, one touchdown and a 122.0 passer rating.
Badly outplayed by the Carolina Panthers for three and half quarters, the Bears suddenly came to life like a horror movie monster who was mistakenly presumed dead.
They erased a 12-point deficit with two touchdowns in :08 midway through the fourth quarter, fell behind again and then won 23-22 on Robbie Gould's 41-yard field goal as time expired. The winning kick came after Gould had missed a 33-yard attempt early in the period.
"We talk always about playing 60 minutes, two halves to a game, all that coach talk," said coach Lovie Smith. "But it really did come down to that today."
With the pulsating victory, the Bears (6-1) extended their winning streak to five games and their lead atop the NFC North to a game and a half over the Vikings (5-3), who were idle. The Packers (5-3) are now tied with Minnesota for second place after beating the Jaguars Sunday.
Before scoring a touchdown and a field goal on their final two possessions, the Bears offense struggled mightily. In the first half, Jay Cutler threw one interception, lost two fumbles and was sacked six times. At one point late in the third quarter, the Bears had been outgained 369-59.
"You have to give the Carolina Panthers a lot of credit," Smith said. "Ron Rivera had them ready to play. They came in and played hard like they've been playing all year. A lot of things that went wrong for us early on was more what they were doing, and that's playing better football than we were."
The defense yielded 416 yards, but kept the Bears in the game by forcing the Panthers (1-6) to settle for five Jason Medlock field goals. Carolina's only touchdown came early in the second quarter after the Panthers had recovered a Cutler fumble at the Bears' 16.
"They had a lot of yards today," Smith said. "They kept drives going. They were converting third downs (10 of 19). They were just doing everything right in the first half. But we kind of got it together there late and got momentum going."
Trailing 19-7, the Bears passing game finally clicked as Cutler rifled a 12-yard touchdown pass to Kellen Davis, cutting the deficit to 19-14 with 6:52 left in the fourth quarter.
On the very next play from scrimmage, Tim Jennings intercepted a Cam Newton pass intended for Steve Smith and returned it 25 yards down the right sideline for a touchdown. Cutler failed to connect with Brandon Marshall on the two-point conversion, but the Bears had taken a 20-19 lead.
After Medlock's 45-yard field goal caromed in off the right upright to put Carolina back ahead 22-20 with 2:27 to play, Cutler engineered a nine-play, 55-yard drive to set up Gould's winning kick.
The Bears quarterback completed 6 of 7 passes for 52 yards on the possession, including completions of 8, 7, 11 and 10 yards to Marshall, who said that Cutler's demeanor after the Panthers had retaken the lead relaxed the entire offense.
"I'm sitting here shaking," Marshall said, "a little bit [because] of the cold weather, a little bit nervous and he just starts smiling like, 'well, here we go,' and just put me at ease right away. The guys feel that vibe and they play off of it."
Matt Forte rushed for 61 of his game-high 70 yards in the first half, including a 13-yard touchdown run that gave the Bears a 7-0 lead with 4:32 remaining in the first quarter.
"We were able to get the running game going with Matt Forte early on," Smith said. "But passing game-wise and then just the pressure that they got with their front really took us out of our game plan."
After generating three red-zone takeaways in Monday night's win over the Lions, the Bears nearly had another one when Major Wright drilled Newton at the 1-yard line on a run up the middle. But receiver Louis Murphy recovered the ball in the end zone for a touchdown, giving Carolina a 10-7 lead with 14:45 left in the second quarter.
The Panthers eventually increased their lead to 19-7 before the Bears stormed back.
"During the course of a year, if you're going to have a good season you're going to go through games like this where it's tough, you're going to have to really just fight to get a win," Smith said.
"But the good teams, at the end, they find a way to win games like this, when you didn't play your best ball for 60 minutes. No matter how you start, it's about how you finish and that's what the guys will take from this game."