The Bears on Friday retained another one of their potential free agents-to-be, signing veteran defensive back Kelvin Hayden to a one-year contract. Terms were not disclosed.
The 6-foot, 195-pounder missed the entire 2013 season after suffering a torn hamstring during the Bears' Family Fest practice Aug. 3 at Soldier Field. The injury, which required surgery, occurred six days before the team's preseason opener against the Carolina Panthers.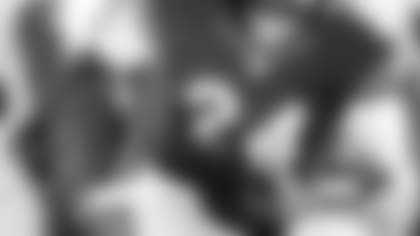 Kelvin Hayden tied for the NFL lead with four fumble recoveries in his first season with the Bears in 2012.
"My season didn't end the way I wanted it to," Hayden told ChicagoBears.com. "Of course, for everybody around here it didn't end the way that any of us expected it to. But for me personally as a player you just don't want to go out that way. I'm looking at this as unfinished business."
Growing up in Chicago, Hayden was a big Bears fan. He attended Hubbard High School, Joliet Junior College and the University of Illinois. He originally signed with his hometown team in 2012 after spending his first seven NFL seasons with the Colts (2005-10) and Falcons (2011).
In his first season with the Bears in 2012, Hayden appeared in all 16 games with two starts. Supplanting D.J. Moore as the nickel back midway through the year, he tied for the NFL lead with four fumble recoveries while recording 40 tackles, one interception and three pass breakups.
Hayden was determined to build on that effort in 2013 before suffering the season-ending injury.
"It was very frustrating because I put so much work into the offseason and I was actually seeing that the work was paying off in the early part of training camp," Hayden said. "It was just tough to go out that way."
Hayden, 30, was selected by Indianapolis in the second round of the 2005 draft. The highlight of his career came in Super Bowl XLI when he intercepted a Rex Grossman pass and returned it 56 yards for a touchdown to help lead the Colts to a 29-17 win over the Bears.
Hayden has appeared in 10 postseason games with five starts, compiling 29 tackles, three interceptions, four passes defensed, one forced fumble and four special teams stops.
Asked whether he's hungry to return after missing an entire season with an injury, Hayden said: "I'm starving. It was tough from Day 1 watching the first preseason game to the last game against Green Bay. The season left a bitter taste and it's been my motivation ever since I got injured. I'm just ready to bounce back.
"Hats off to the front office and the coaching staff here in Chicago for still believing in me. I'm happy about that and I'm happy to be back."
Hayden is the eighth player the Bears have re-signed since late December, joining quarterback Jay Cutler, guard Matt Slauson, cornerback Tim Jennings, kicker Robbie Gould, center Roberto Garza, tight end Dante Rosario and fullback Tony Fiammetta.