The Bears on Friday reached the NFL's mandatory 53-man roster limit by releasing 21 players including quarterback Josh McCown and running back Armando Allen, and trading fullback Tyler Clutts to the Houston Texans in exchange for cornerback Sherrick McManis.
Opting to keep only two quarterbacks in Jay Cutler and Jason Campbell, the Bears terminated McCown's contract. The 10-year NFL veteran had performed well late last season as well as in Thursday night's preseason finale against the Cleveland Browns.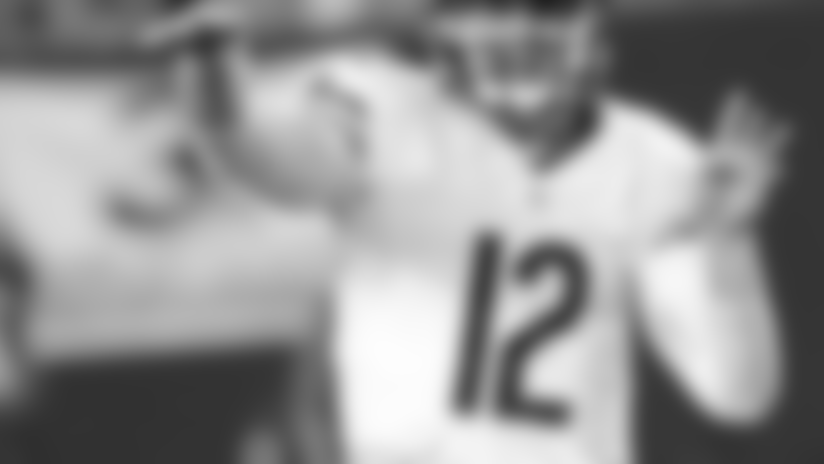 Josh McCown passed for 157 yards and two TDs in Thursday night's win in Cleveland.
Originally signed by the Bears last Nov. 23 while he was coaching high school football in North Carolina, McCown started the final two games of the season, passing for 402 yards with two touchdowns and three interceptions in a loss to the Packers and a win over the Vikings.
Playing the entire preseason finale, McCown led the Bears to a 28-20 victory in Cleveland by completing 20 of 29 passes for 157 yards with two TDs, one interception and a 90.7 passer rating.
Allen excelled Thursday night as well, leading all players from both teams in rushing (16 carries for 83 yards) and receiving (five catches for 51 yards, including an 11-yard touchdown) while also generating a takeaway by forcing a Browns fumble on a punt return.
The second-year pro lost out in the battle for the third running back position to five-year veteran Lorenzo Booker, who rushed for 81 yards on 15 carries and caught four passes for 16 yards against the Browns before exiting with a head injury in the fourth quarter. Booker produced one of the most electrifying plays of the preseason with a 105-yard kickoff TD versus the Redskins.
Clutts heads to the Texans after appearing in all 16 games with eight starts last year in his only season in Chicago. His departure leaves the Bears without a fullback on their roster. Offensive coordinator Mike Tice seems to prefer using tight end as blocking backs given the fact that four tight ends made the 53-man roster: Kyle Adams, Kellen Davis, Evan Rodriguez and Matt Spaeth.
McManis joins the Bears after appearing in 23 games in two seasons with the Texans primarily on special teams. The 6-1, 193-pounder, who grew up in Peoria, was selected by Houston in the fifth round of the 2010 draft out of Northwestern.
The Bears also terminated the contracts of four other vested veterans: Linebacker Xavier Adibi, defensive end Chauncey Davis, receiver Rashied Davis and cornerback Jonathan Wilhite.
In addition, Chicago waived receivers Joe Anderson, Terriun Crump and Brittan Golden; tackles Cory Brandon, James Brown and A.J. Greene; cornerbacks Cornelius Brown, Isaiah Frey and Greg McCoy; guard Ricky Henry; safety Mark LeGree; defensive tackle Jordan Miller; tight end Brandon Venson; defensive end Aston Whiteside; and linebacker Jabara Williams.
Defensive tackle Nate Collins does not count against the 53-man roster because he's suspended for the first game of the regular season due to violating the NFL's substance-abuse policy.

Among the players who earned spots on the 53-man roster were Dane Sanzenbacher as the sixth receiver; Cheta Ozougwu and Brian Price as reserve defensive linemen; J.T. Thomas and Patrick Trahan as backup linebackers; and undrafted rookie safety Jeremy Jones.
With Adam Podlesh's status uncertain due to a hip flexor injury, rookie punter Ryan Quigley also made the team after he performed well in the final two preseason games.
The Bears can establish an eight-man practice squad on Saturday and also can claim players who've been waived by other NFL teams. In past seasons, the Bears have typically stocked their practice squad primarily with players they released a day earlier during final cuts.

Here's a breakdown of the 53-man roster as it stands now (in alphabetical order):

Quarterbacks (2): Jason Campbell, Jay Cutler
Running backs (3): Lorenzo Booker, Michael Bush, Matt Forte
Wide receivers (6): Earl Bennett, Devin Hester, Alshon Jeffery, Brandon Marshall, Dane Sanzenbacher, Eric Weems
Tight ends (4): Kyle Adams, Kellen Davis, Evan Rodriguez, Matt Spaeth
Offensive linemen (8): Gabe Carimi, Roberto Garza, Lance Louis, Chilo Rachal, Chris Spencer, J'Marcus Webb, Chris Williams, Edwin Williams
Defensive linemen (9): Israel Idonije, Shea McClellin, Henry Melton, Cheta Ozougwu, Stephen Paea, Julius Peppers, Brian Price, Matt Toeaina, Corey Wootton
Linebackers (7): Lance Briggs, Blake Costanzo, Geno Hayes, Nick Roach, J.T. Thomas, Patrick Trahan, Brian Urlacher
Cornerbacks (5): Kelvin Hayden, Tim Jennings, Sherrick McManis, D.J. Moore, Charles Tillman
Safeties (5): Chris Conte, Jeremy Jones, Craig Steltz, Anthony Walters, Major Wright
Specialists (4): Robbie Gould, Patrick Mannelly, Adam Podlesh, Ryan Quigley
**