As the temperature drops and the holidays approach, the Bears' schedule will become more difficult, beginning Sunday night when they host the 7-1 Houston Texans. But after storming to a 7-1 start of their own, Lovie Smith and his team are ready for the challenge.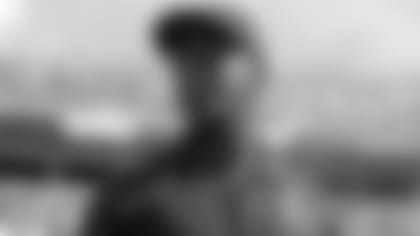 Lovie Smith has led the Bears to their best start since they were 7-0 in 2006.
"You are what your record says you are," Smith said. "We are a 7-1 football team. We're a good football team. We're excited about playing the Texans. Each game as you continue to win, the stakes go up a little bit higher each week. We realize that and we're going to embrace that. We're going to embrace this national stage that we have this Sunday night, and I see our team getting better and better."
After hosting the Texans, the Bears will play their second straight prime-time game against a first-place team when they travel to San Francisco to battle the 49ers on Monday Night Football. They will then close the season with four of their final six games against NFC North rivals.
It's a tough stretch, but knowing they can't win more than one game this weekend, the Bears are concentrating solely on the Texans.
"It's just about your play each week, trying to improve, looking at one play at a time," Smith said. "And that's what we're doing. We're looking at one play at a time. I know we have the Texans next, and I have an idea of some of the other teams we have coming up. But we have enough veterans in the room to stay focused. They know how we do things. They're not looking too far ahead."
First Fan: President Barack Obama gave props to his favorite NFL team and one of its key players during an ESPN interview at halftime of Monday night's game between the Eagles and Saints.
Asked if the Bears are good enough to win the Super Bowl, the President said: "Yes, they are. They have the best defense in the league right now. [Charles] Tillman may be the defensive player of the year the way he's playing."
Tillman said Tuesday that he was sleeping when the interview aired, and even though his wife woke him up to tell him about it, he thought he was dreaming until he checked his text messages Tuesday morning.
"I was not watching it," Tillman said. "I went to bed about nine o'clock. My wife was watching 'Homeland' on Showtime. I was asleep. She heard her phone go off and she had about 20 messages. She woke me up and said, 'The President just gave you a shout out.'
"I understood what she was saying, but at the same time I was half asleep. When I woke up [Tuesday] I had about 50 text messages. It's pretty cool because it's not often that President Obama will say [your] name."
Fourth Phase: Bears players and coaches appreciated the support they received from thousands of Chicago fans who attended Sunday's 51-20 win over the Titans in Nashville, turning LP Field into what Smith described as "Soldier Field South."
"Our fans were outstanding that came on the road with us," Smith said. "From the hotel to the game, we really did take that stadium over. It's only right that our team played that well."
Bears fans also showed up in massive numbers in previous road games this season in Dallas and Jacksonville.
"They've traveled well," said quarterback Jay Cutler. "Hats off to our fans. It's been a fun year. It's been crazy to watch the Bears fans take over. You know you have a ton of fans when you're in an away stadium in the red zone and I'm trying to get the crowd to hush up and they're responding. They got quiet in a hurry, so it makes it fun."
Roster moves: The Bears re-signed receiver Joe Anderson to the practice squad and terminated the practice squad contract of receiver Kamar Aiken.
Anderson entered the NFL with the Bears this year as an undrafted free agent from Texas Southern. He had spent the first eight weeks of the season on Chicago's practice squad before being released last week.