Avenging last year's 38-14 home loss to the Seahawks won't necessarily be the Bears' prime motivation in the rematch between the NFC foes Sunday at Soldier Field.
After all, the Bears have an entirely different team and they're driven more by the need to maintain their lead atop the NFC North than gaining revenge against an opponent.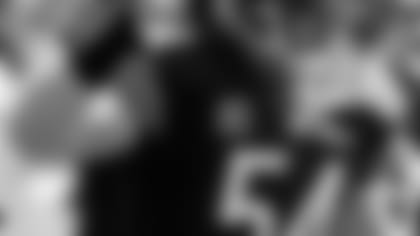 Middle linebacker Brian Urlacher and the Bears enter Week 13 with a one-game lead over the Packers atop the NFC North.
Yet with that being said, there are some who still have a bitter taste in their mouths after the Seahawks outscored the Bears 31-0 in the second half last season to erase a 14-7 deficit.

"We had a lead at home, and letting a team score that many unanswered points just doesn't happen a lot to us," said coach Lovie Smith, who has lost two of three home games to Seattle.

"They've come in here and beaten us a couple times. They're a good football team battling for a playoff spot just like we are. It's a game we have to have."

The Bears faced the Seahawks last season without injured starters Jay Cutler and Matt Forte as well as receiver Brandon Marshall, who was with the Dolphins. In last year's game, Caleb Hanie had two interceptions that were returned for touchdowns.

"They beat us bad last year," said middle linebacker Brian Urlacher. "They beat us up up front. They came here in late December, in our weather, and put it on us pretty good."

Injury update: Although receiver Devin Hester (concussion) and guard Chris Spencer (knee) were ruled out of Sunday's game on Thursday, there was good news on the injury front Friday.

Forte (ankle) linebacker Lance Briggs (ankle), tight end Kellen Davis (ankle), defensive tackle Stephen Paea (shoulder), cornerback Charles Tillman (ankle) and guard Edwin Williams (shoulder) all practiced without restrictions and were listed as probable on the injury report.

For the Seahawks, cornerback Marcus Trufant (hamstring) is doubtful; and defensive end Red Bryant (foot), linebacker LeRoy Hill (ankle) and receiver Sidney Rice (calf) are questionable.

Big test: The Bears will be challenged on special teams Sunday by veteran Leon Washington, who ranks third in the NFL with a 31.9-yard average and one TD on 18 kickoff returns and 13th with a 9.5-yard average on 27 punt returns.

"He's dangerous on both," said special teams coordinator Dave Toub. "As a kick returner, he's just so strong and he has great vision. He makes subtle moves. He's not going to make an unbelievable cut and run around the coverage. He's real shifty. He keeps his shoulders square and gets north and south in a hurry. It makes him very dangerous."

Johnson returned a kickoff 98 yards for a touchdown last Sunday against the Dolphins to increase his career total to eight, tying Josh Cribbs' all-time NFL record.

The Bears will counter with the NFL's top-ranked coverage team, which has forced opponents to start their average drive following kickoffs at their own 19.8-yard line.

Back in business: Jeremy Bates will face his former team Sunday. The Bears quarterbacks coach served as Seahawks offensive coordinator in 2010 before spending last season out of football.

"He's such a grinder, such a hard worker, I'm sure he was dying to get back," Cutler said. "But he was able to watch a lot of football, gain some knowledge, see some different plays, see what was out there, some different systems guys are running."

Cutler has enjoyed reuniting with Bates, who helped the quarterback as well as Marshall develop into Pro Bowlers as an offensive assistant with the Broncos.

"I don't really want to be in an offense without him," Cutler said. "He's an unbelievable game-planner and a guy that motivates not only me but the rest of the players."