Receiver Brandon Marshall delivered another monster performance in Sunday's 28-10 win over the Vikings, catching 12 passes for 92 yards-often with defenders draped all over him.
But it's also worth noting moving forward that the Bears finally had some other pass catchers step up as tight ends Matt Spaeth and Kellen Davis and receiver Earl Bennett all made key contributions.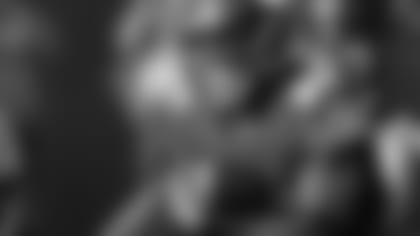 Earl Bennett matched a season high with four receptions in Sunday's win.
"It's big," said coach Lovie Smith. "When you get to this point in the season you're going to need more guys stepping up like that. If you're on the football field, you have a chance of making a big play for us and you never know where it's going to come."
The Bears' need for a second receiver to step up was magnified in their 13-6 loss to the Texans Nov. 11. In that game, Marshall was targeted 13 times and caught eight passes for 107 yards, while six of his teammates were targeted a combined 20 times and had 10 receptions for 27 yards.
Against the Vikings, Spaeth made a diving 13-yard touchdown reception, Davis set up a TD with a 15-yard catch to the Minnesota 1, and Bennett caught four passes for 45 yards, including an 11-yarder on third-and-six that sustained a touchdown drive.
"I caught a bunch of balls, but the thing I loved was Earl Bennett got us started making big plays, Kellen made a big catch for us," Marshall said. "That's what I want to see, and that felt good out there seeing those other guys involved early. When they do that, it's just a matter of time before I get going. I'm really excited to see the offense rolling the way we did."
Insurance policy: With Devin Hester's status for Sunday's game against the Seahawks uncertain due to the concussion he suffered versus the Vikings, the Bears could turn to receiver Eric Weems.
Weems, who signed with the Bears this year after spending his first five NFL seasons with the Falcons, showed his versatility against Minnesota by catching one pass for nine yards, returning three kickoffs for 27 yards and recording two special teams tackles.
"We brought him here for that reason," Smith said. "He showed what he could do on special teams in Atlanta and also as a receiver. When you're a receiver and you like playing on special teams, that's saying a lot about you. Every situation we've put him in he's done some good things."
Staying committed: The Bears stuck with their running game against the Vikings, compiling a season-high 39 carries even though they didn't have a gain longer than eight yards.
"You would like to have big runs, explosive runs as often as possible and we have guys capable of doing that, and they have," Smith said. "But I think the first thing you have to look at is the commitment to the run; 39 rushes, that right there to me was the story of the day.
"Being in a situation where you can run the ball 39 times, you have to be good on third downs and you have to make some plays. You can't just have one-yard gains throughout. We would like to have a 300-yard rushing day, but to me that was a perfect day for the type of football game it was and what we needed to do at the time."
Bouncing back: Beating the Vikings Sunday after falling 32-7 in San Francisco, the Bears are now 6-1 in games immediately following a loss of at least 21 points since 2008. That includes a 4-0 record when they play at home after a blowout defeat.
"We've had good football teams that have come back from those," Smith said. "We have a veteran crew. It doesn't matter whether you win or you lose, you have to learn from your mistakes from that last game and go back to the practice field. We had an excellent week of work, even though it was a short week, and it's a game we had to have."