The Bears on Tuesday terminated the contract of offensive lineman Chris Williams.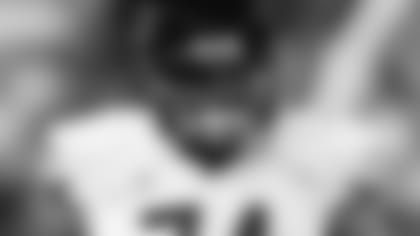 Chris Williams
Selected by the Bears with the 14th overall pick in the 2008 draft out of Vanderbilt, Williams played in 50 games with 38 starts in five seasons.

After failing to unseat starting left tackle J'Marcus Webb in training camp, Williams appeared in the first three games of the season as a reserve. He was then deactivated against the Cowboys and Jaguars after being supplanted as the No. 3 tackle by veteran free agent acquisition Jonathan Scott.

Williams joined the Bears as a left tackle, but was moved to right tackle in 2009 after the team signed veteran free agent Orlando Pace. Williams returned to left tackle late in 2009 before being switched to left guard in 2010. He started the first nine games at left guard in 2011 before sustaining a season-ending wrist injury.

The Bears on Tuesday also re-signed cornerback Zackary Bowman to a one-year contract and terminated the practice squad contract of rookie defensive end Aston Whiteside.

Bowman was chosen by the Bears in the fifth round of the 2008 draft out of Nebraska. He appeared in 46 games with 16 starts in four seasons, registering 117 tackles, seven interceptions, seven pass breakups, two forced fumbles, two fumble recoveries and 22 special teams tackles.

Bowman left the Bears in March, signing a one-year contract with the Vikings. But he was waived Sept. 2, one day after Minnesota had reached the NFL's mandatory 53-man roster limit.