Quarterback Jay Cutler's polarizing eight-year tenure in Chicago officially ended Thursday when he was released by the Bears.
Acquired in a blockbuster trade with the Denver Broncos on April 2, 2009, Cutler set virtually every Bears career passing record but posted a mediocre 51-51 regular-season record and led the team to just one playoff berth.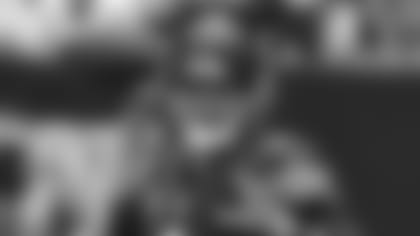 Jay Cutler compied a 51-51 record in eight seasons as Bears starting quarterback.

"I appreciate Jay's professionalism throughout this process and throughout my two years with him here in Chicago," Bears general manager Ryan Pace said in a statement. "I will always appreciate his toughness and respect his accomplishments on the field with the Bears. He leaves here holding nearly every passing record with this storied franchise and I wish him nothing but the best going forward."
Cutler's best season with the Bears may have been in 2015 when he posted a career-high 92.3 passer rating and reduced his interceptions from 18 in 2014 to 11.
But the veteran quarterback was limited to just five games in 2016, completing 81 of 137 passes for 1,059 yards with four touchdowns, five interceptions and a 78.1 passer rating. He missed five contests with a thumb injury he suffered in Week 2 and sat out the final six games with a shoulder injury.
"Jay was always one of the biggest competitors on our roster," said Bears coach John Fox said. "He battled every day to get better, both himself and his teammates. He was a team guy who would offer anything he could to help the Bears. Wherever his career may take him next, I wish him nothing but success."
Cutler played for six different offensive coordinators with the Bears: Ron Turner (2009), Mike Martz (2010-11), Mike Tice (2012), Aaron Kromer (2013-14), Adam Gase (2015) and Dowell Loggains (2016).
Cutler arrived in 2009 with high expectations, one year after being voted to the Pro Bowl with the Broncos. The Bears acquired him along with a fifth-round pick they spent on Pro Bowl return specialist Johnny Knox in exchange for quarterback Kyle Orton, first-round selections in 2009 and 2010 and a third-round choice in 2009.
Cutler struggled with interceptions in his first season in Chicago, throwing a career-high 26 picks. That included four interceptions in his Bears debut in a Monday night loss in Green Bay and later five picks in a Thursday night defeat to the 49ers.
Cutler rebounded in 2010, however, passing for 3,274 yards with 23 touchdowns and 15 interceptions in leading the Bears to the NFC North championship with an 11-5 record. In a 35-24 playoff win over the Seahawks, he passed for 274 yards with two TDs, no interceptions and a 111.3 rating.
The following week in the NFC Championship Game against the Packers, however, he connected on just 6 of 14 passes for 80 yards and one interception before exiting with a knee injury he sustained late in the first half.
Cutler led the Bears to five straight wins in 2011, improving their record to 7-3. But he suffered a season-ending thumb injury in a victory over the Chargers and was lost for the season. The Bears dropped their next five games without Cutler, falling out of playoff contention.
Cutler ranks first on the Bears' all-time list in career passer rating (85.2), completions (2,020), attempts (3,271), completion percentage (61.8), passing yards (23,443), passing yards per game (229.8), passing touchdowns (154) and 300-yard passing games (16).
"We are grateful to Jay for all he did as a Bear," said Bears chairman George H. McCaskey. "His ability, toughness, and intelligence were on daily display at Halas Hall and Soldier Field. He had an extraordinary impact off the field, doing things for people—especially kids—without expecting or wanting any recognition. I was and am a big fan of his. We wish Jay, Kristin and their three kids all the best."
Cutler released the following statement to the Chicago Sun-Times: "I would like to first thank the city of Chicago and its passionate fans for a memorable eight years. I grew up in Indiana rooting for the Bears as kid, so it was an honor to wear the Bears uniform and play quarterback at Soldier Field for my favorite childhood team.
"I would like to thank Virginia, George and the rest of the McCaskey family for their support over my tenure in Chicago as well as Jerry Angelo, Phil Emery and Ryan Pace. It was a great experience to have played with such a great list of teammates during my time as a Bear. Also, I would like to thank all of the great employees of the Bears from the locker room to the front office.
"Chicago is the city where I met my wonderful wife Kristin. I have been fortunate to have three beautiful children here. Our family will leave Chicago with great memories and relationships on and off the field. We look forward to the next chapter in our lives and wish the best to Bear fans everywhere."