The Bears on Thursday terminated the contract of defensive lineman Jeremiah Ratliff and signed defensive lineman Ziggy Hood.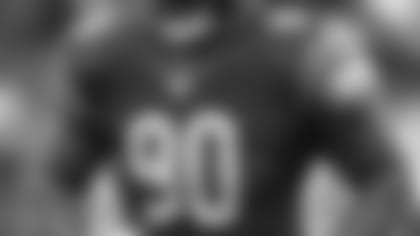 Defensive lineman Jeremiah Ratliff joined the Bears midway through the 2013 season.
Ratliff, 34, appeared in 18 games with 17 starts in three seasons with the Bears, recording 63.5 tackles, eight sacks and 2.5 tackles-for-loss.
"We felt moving forward without Jeremiah was in the best interest of our team," Bears general manager Ryan Pace said in a statement. "We appreciate his contributions and wish him well. We are also excited to be able to add Ziggy Hood to our roster."
Ratliff was suspended by the NFL for the first three games this season for violating the league's Policy and Program for Substances of Abuse.
The suspension stemmed from an incident that occurred on Jan. 22, 2013 when Ratliff—who played for the Cowboys at the time—was arrested just outside Dallas on suspicion of drunk driving. He pled guilty to the DWI charge in May and was given one year of probation and fined.
After sitting out a Week 4 win over the Raiders with an ankle injury, Ratliff played in the last two games against the Chiefs and Lions, registering eight tackles.
Before joining the Bears, Ratliff spent nine seasons with the Cowboys from 2005-13, earning four consecutive trips to the Pro Bowl from 2008-11.
Hood spent his first six NFL seasons with the Steelers (2009-13) and Jaguars (2014) after being selected by Pittsburgh with the 32nd pick in the first round of the 2009 draft. He has appeared in 96 games with 46 starts, registering 164 tackles, 12.5 sacks, 17 tackles-for-loss, 24 quarterback hits, five fumble recoveries and seven pass breakups.
Hood opened the season on injured reserve with the Jaguars and was released Tuesday.