On the first day of NFL free agency Tuesday, the Bears retained one of their own players, agreeing to terms on a one-year contract with veteran linebacker D.J. Williams.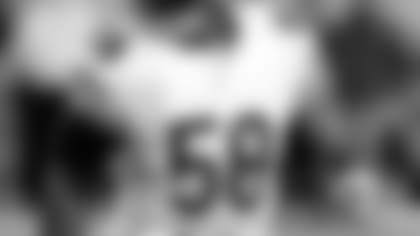 D.J. Williams
Williams originally signed with the Bears a year ago, but he was hampered by injuries in 2013.
After missing the entire preseason with a calf injury, the 6-1, 242-pounder rebounded to perform well as the team's starting middle linebacker early in the year. But Williams was lost for the season with a torn pectoral muscle in a Week 6 win over the New York Giants.
Williams registered 39 tackles, two sacks, two tackles-for-loss and one forced fumble before being placed on injured reserve. Both of his sacks came in the first quarter of a Week 3 victory over the Pittsburgh Steelers, including one that caused a fumble that the Bears recovered.
Williams, 31, joined the Bears last year after spending his first nine NFL seasons with the Broncos. He was selected by Denver with the 17th pick in the first round of the 2004 NFL Draft.