The Bears released their first regular-season depth chart Tuesday, and there were few surprises.
Rookie offensive linemen Kyle Long and Jordan Mills are listed as starters at right guard and right tackle, respectively. Corey Wootton and Shea McClellin are the only co-starters on the depth chart at left defensive end. And veteran D.J. Williams is still listed as a starter ahead of rookie Jon Bostic at middle linebacker even though Bostic opened all four preseason games while Williams was hurt.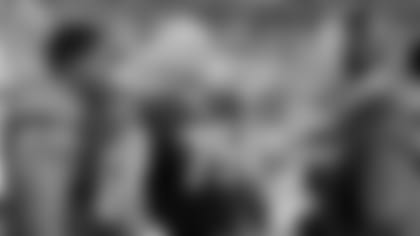 Rookie offensive linemen Jordan Mills and Kyle Long chat with offensive coordinator Aaron Kromer.

Long and Mills won starting jobs with their performance in training camp and the preseason. While Marc Trestman is confident in the two rookies, the Bears coach acknowledged that Sunday's season opener against the Bengals will present an entirely different challenge for the young linemen.

"The world's going to change dramatically come Sunday," Trestman said. "There's no doubt about it. I'm excited for them. They've been extremely productive during training camp and during the games and have picked it up each day. I said there weren't small steps they were making. There were big steps they were making through training camp. And now we'll see.

"It really does all change a little bit come Sunday. But they have been practicing against some very good defensive linemen for the last five weeks and that should help them going into this game."

This season will mark the first time the Bears start two rookie offensive linemen in their opening game since 1983 when they went with former University of Pittsburgh teammates Jim Covert at left tackle and Rob Fada at left guard. But general manager Phil Emery is not concerned.

"What I want to see is performance," Emery said. "That is what I expect to see and I think that is their expectation level. They want to see themselves perform at a high level and our team win games. So if those two are officially up, they're up and I expect good things out of them. I know from an intangible and a talent aspect they're certainly capable of doing the job."

It's unclear whether Wootton or McClellin will start at defensive end Sunday, but both are expected to see significant playing time regardless of who wins the job.

"I don't know what the opening day starting situation is," Emery said. "I think that is going to be earned through the week. They both have shown good upside in terms of what they are capable of doing. They've both made plays. I've certainly seen development in both Corey and Shea.

"Best man wins. The other one is going to be on the field a lot. In terms of whoever goes out there and puts their hand on the ground first, that is a good thing. He earned that spot in front of the other one. They are competing as hard as I have seen two players go at it. Each and every rep counts to them, each and every one-on-one counts to them, each and every rep on game tape has counted to them.

"It's a great thing. That is a heck of a thing to have on a team is that competition at that high level. I am excited about it. Whoever puts their hand down, they've earned it. The other one is going to play a bunch. They'll both contribute to what our team becomes this fall."

The same probably could be said for Bostic and Williams at middle linebacker. Bostic has worked with the first team since Williams injured his calf July 31 in training camp. But Williams has returned to practice and could play Sunday against the Bengals.

Asked who will start, Emery said: "The player that is making the plays; the player that is doing the best. Who is better for those given circumstances than the other player? So whoever is playing better whatever the given opportunity is, they'll have earned their way to be the starter.

"If that's Bostic, great; if that's Williams, great. We have no preferences in this building. It's about putting the best players on the field and the most productive."