The Bears experienced a wide range of emotions Sunday, from euphoria following their 26-24 win in Detroit to despair a few hours later when they were knocked out of the playoffs.
The same coaches and players who had celebrated a critical victory over the Lions filed off their buses in silence upon arriving at Halas Hall shortly after the Vikings had eliminated the Bears by edging the Packers 37-34 on Blair Walsh's 29-yard field goal as time expired.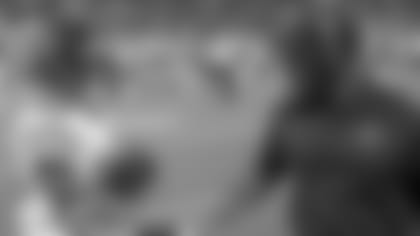 Lovie Smith congratulates Earl Bennett after the receiver's 60-yard TD catch Sunday in Detroit.
"First off, it was about us getting a win, going on the road against a division opponent in Detroit," coach Lovie Smith told play-by-play announcer Jeff Joniak on Fox's Bears Gamenight Live.

"We stepped it up, made a lot of plays, so we were on an emotional high after that win. But you can't put yourself in a position where you depend on someone else. It's kind of as simple as that. Even though we took care of business today, it wasn't enough."

The Bears finished a respectable 10-6, but became the first NFL team since the 1996 Redskins to miss the playoffs following a 7-1 start. Chicago has now failed to qualify for the postseason in five of six seasons since advancing to the Super Bowl in 2006.

Some Bears players took to Twitter Sunday night to lament their fate and thank their fans.

"Thanks to all the fans who supported us this year," kicker Robbie Gould tweeted. "Very disappointed to be on the outside looking in at the playoffs."

"Thanks for all the support," wrote linebacker Lance Briggs. "I really appreciate it."

"How crushed we are," tweeted receiver Brandon Marshall. "The Lord's will is being done. So thankful for you and how you embraced my wife and me this year."

"Hard to believe our season is over with this group of guys we have," wrote linebacker J.T. Thomas.

"While we got the 'W' today, our season is over," linebacker Nick Roach wrote on his Facebook page. "Thank you to all the Bears fans out there who supported us each and every week. Know I am grateful for every down I got to play this year for your Chicago Bears with some of the best guys in the business. Go Bears!"