Brock Vereen realized a dream last Saturday when he was picked by the Bears in the fourth round of the draft. But it didn't truly sink in until he arrived at Halas Hall Thursday for rookie minicamp.
"It just felt good to see what is hopefully going to be my home for future years to come," said Vereen, a safety from Minnesota. "It's finally starting to hit me and I'm excited to get on the field."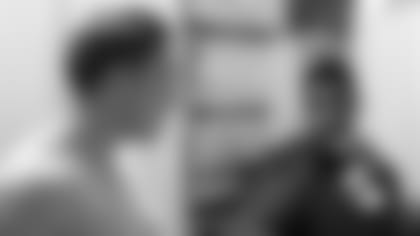 Quarterback David Fales chats with safety Brock Vereen while waiting to be fitted for equipment.
Vereen was among over 50 rookies from across the country who arrived at the Bears' facility Thursday. They spent the day getting fitted for helmets, taking physicals and receiving their playbooks.
"When you get drafted, you get your name called," said fourth-round pick Ka'Deem Carey, a running back from Arizona. "But it's a whole different feeling when you get here and you get to see your teammates that you'll be working with. It's just a vibe you can't explain."
The rookies entered Halas Hall through the lobby, which features plaques of all 27 Bears Hall of Famers-the most of any NFL team-as well as a large image of George Halas, who helped found the NFL and spent his entire adult life as a Bears player, coach and owner.
The rookie minicamp will consist of one practice on Friday, Saturday and Sunday and include eight draft picks, nine undrafted free agents and nearly 40 others who will participate on a tryout basis. The minicamp is open to the media, but it's closed to the public.
Asked what he hopes to show on the field this weekend, Carey said: "Just the same thing they saw when they were [evaluating] me; I'm a hard-nosed dude and I'm hitting the holes and just having fun and enjoying football."
Bears coach Marc Trestman conducted a welcome meeting for the rookies at 5 p.m. Thursday. Their work day Friday will begin with breakfast at 6 a.m. and end with a shuttle bus trip back to their hotel at 6:15 p.m. In between, they'll participate in practice, meetings and walkthroughs.
In addition to Carey and Vereen, other Bears draft picks are first-round cornerback Kyle Fuller (Virginia Tech), second-round defensive tackle Ego Ferguson (LSU), third-round defensive tackle Will Sutton (Arizona State), sixth-round quarterback David Fales (San Jose St.), sixth-round punter Pat O'Donnell (Miami) and seventh-round tackle Charles Leno Jr. (Boise State).
The nine undrafted free agents are running back Jordan Lynch (Northern Illinois), defensive tackles Brandon Dunn (Louisville) and Lee Pegues (East Carolina), guards Ryan Groy (Wisconsin) and James Dunbar (TCU), tackle Cody Booth (Temple), and linebackers Tana Patrick (Alabama), Christian Jones (Florida State) and Devekeyan Lattimore (South Florida).
First-year Bears players who also are slated to participate in the weekend minicamp include punter Tress Way, quarterback Jerrod Johnson, cornerback Demontre Hurst, long-snapper Brandon Hartson, linebacker Lawrence Wilson, tackle Rogers Gaines, defensive end Tracy Robertson and tackle Joe Long.