Khaseem Greene realized a lifelong dream nearly two weeks ago when he was selected by the Bears in the fourth round of the NFL Draft. But it didn't truly sink in until he arrived at Halas Hall Thursday for rookie minicamp.
"Once I got out of the car and I saw the Chicago Bears sign I was like, 'Wow, I'm really here now and it's time to work,'" said Greene, a linebacker from Rutgers. "It's not like being in college. Now this is my job. This is what I have to do to help my family, help myself and ultimately help this organization."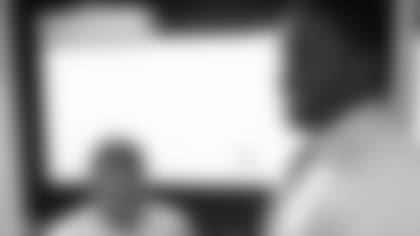 Fifth-round draft pick Jordan Mills arrives at Halas Hall for Bears rookie minicamp.
Greene was among more than 40 rookies from across the country who arrived at the Bears' facility Thursday. They spent the day filling out paperwork, getting fitted for equipment and taking physicals.

"As I was pulling up I realized it's go time now," said seventh-round pick Marquess Wilson, a receiver from Washington State. "It's time to work and time to earn a spot on this team and contribute like I feel I can."

The wide-eyed rookies entered Halas Hall through the lobby, which features plaques of all 27 Bears Hall of Famers as well as a giant image of the legendary George Halas, who helped found the NFL.

"It's a great tradition," Greene said. "Being a linebacker, there's no better place to be. Mike Singletary was one of the best. Lance Briggs, Brian Urlacher; you name them. Walter Payton is one of the best players ever. Just to be a part of this is special to me and I'm definitely honored to be here."

"The tradition is very important," Wilson said. "You look up to these players and you want to follow in their footsteps, practice and play how they played, and you just want to shine and show them that the legacy is going to continue."

The rookie minicamp will consist of two-hour practices Friday, Saturday and Sunday and include six draft picks, 10 undrafted free agents and 29 others who will participate on a tryout basis. It is closed to the public.

"I want to show them that they made a good choice by drafting me and show them that I can be a playmaker. That's my goal," said sixth-round pick Cornelius Washington, a defensive end from Georgia. "I'm going to do everything full speed and show them that they got a great player."

Bears coach Marc Trestman conducted a brief welcome meeting for the rookies at 5 p.m. Thursday. Their work day Friday will begin with breakfast at 6 a.m. and end with a shuttle bus trip back to their hotel at 7 p.m. In between, they'll participate in practice, meetings and a media training session.

"You get here and it's like you've finally arrived, but there's work ahead," Washington said. "I'm coming to a veteran team, a well-oiled machine, and I'm going to have to earn my respect and do my part. Anytime you come to a new place you're going to have to earn the respect of the other players, and that's something I'm willing to do and something I'm ready to do."

In addition to Greene, Washington and Wilson, other Bears draft picks are first-round guard Kyle Long, second-round linebacker Jon Bostic and fifth-round tackle Jordan Mills.

The 10 undrafted free agents are LSU running back Michael Ford, Rutgers receiver Mark Harrison, Oklahoma cornerback Demontre Hurst, Iowa State receiver Josh Lenz, LSU center P.J. Lonergan, Montana State defensive tackle Zach Minter, Memphis receiver Marcus Rucker, Georgia Southern defensive tackle Brent Russell, Oklahoma punter Tress Way and North Carolina State cornerback C.J. Wilson.

First-year Bears players who also are slated to participate in this weekend's minicamp include quarterback Matt Blanchard, receiver Dale Moss, cornerback Isaiah Frey, safety Cyhl Quarles, tackle Cory Brandon, receiver Terrence Toliver, receiver Brittan Golden and defensive end Aston Whiteside.