After signing their contracts and getting fitted for equipment Thursday, all eight Bears draft picks donned their new uniforms and participated in their first NFL practice Friday.
"I saw that big ol' 'C' on my helmet and I didn't know what to do," said fourth-round running back Ka'Deem Carey. "I just felt like I made it, but I've still got a lot of work to do. It felt great though."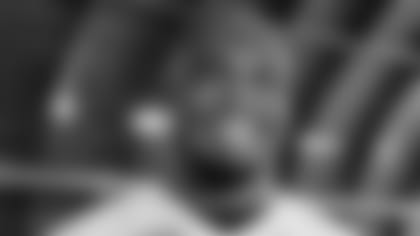 Rookie defensive tackle Ego Ferguson smiles while talking to the media Friday at Halas Hall.
Carey was among 66 players who took part in the first of three rookie minicamp practices. In addition to the draft picks, the group included nine undrafted free agents, 11 Bears players with less than a full year of NFL experience and 38 prospects participating on a tryout basis.
"This was a first impression day," said coach Marc Trestman. "The focus today was not only to execute your assignment but to go as fast as you can until the whistle blows after the ball was snapped, and we think we got a pretty good evaluation of that on tape as we move into tomorrow."
With rain and even some snowflakes falling, Friday's practice was conducted inside the Walter Payton Center. The rookies are slated to work out again Saturday and Sunday.
Last week the Bears selected a defensive player in each of the first three rounds of the draft for the first time since 2003. The class is led by first-round cornerback Kyle Fuller.
"He's a very intelligent player," said defensive coordinator Mel Tucker. "He's got good size. He's got good speed. He's a willing and aggressive tackler and a high-percentage tackler. He's got excellent ball skills and great awareness. He's a football guy and he's a tough guy.
"That's what he brings, so that's what we're looking for. He'll have an opportunity to compete day-in and day-out and show us what he can do."
Tucker was also happy to work with second-round defensive tackle Ego Ferguson for the first time.
"He's got excellent size, he's athletic, he's light on his feet, he's got a strong punch and a good anchor, really good balance and body control," Tucker said. "He's got some juice; he can explode and close in a short area and he's got some pass rush ability as well.
"There's tremendous upside. I think with good coaching, determination and grit and persistence on his part, I think he can reach his full potential here."
Last year in his only season as a starter at LSU, Ferguson compiled 58 tackles, 3.5 tackles-for-loss and one sack. Known more as a run-stuffer than a pass-rusher, the 6-2, 315-pounder has high expectations as he enters his rookie season.
"I think the sky's the limit for me," Ferguson said. "I just think that if I keep working the way
I've been working and keep staying humble, I can do anything. I feel like I'm a better athlete than people expect, but I just have to show it."
Ferguson lined up Friday next to fellow tackle Will Sutton, a third-round pick from Arizona State.
"This is just a dream come true to be here," Sutton said. "I've just got to compete and make plays. I've got to be consistent every day. I can't have any bad days."
New Bears defensive line coach Paul Pasqualoni is excited to work with the two young tackles.
"We've added depth and players with size, which we were interested in; players with good football knowledge [who have] played a lot of football," Pasqualoni said. "They've played in high-level conferences against high-level competition; what I would refer to as 'big-school kids.' I think we've added some really exciting young guys."
Ferguson and Sutton both took reps at the three-technique and nose tackle positions, something they will continue to do in offseason workouts.
"We train the guys in all techniques and alignments up front," Pasqualoni said. "They were exposed to everything, from a stance to a footwork standpoint. We like to do that this time of year just so we have a good evaluation of what their strengths are and what their weaknesses are."