As the Bears prepare for Sunday's game in St. Louis, one of their top priorities remains improving a porous run defense that ranks 31st in the NFL, ahead of only the hapless Jaguars.
"We've been inconsistent," said coach Marc Trestman. "I think that's where we're at. At times we've been able to do very well and at times we haven't. Statistically, I'm not quite sure where we are, but I'm sure we're not doing as well as we certainly would like to."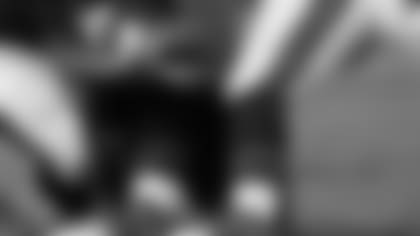 Julius Peppers tackles Ray Rice during last Sunday's overtime win over the Ravens.
That inconsistency was evident in the first six games of the season when the run defense alternated between good and bad outings, allowing 63, 123, 80, 159, 64 and 123 yards. But the Bears have regressed in their last four contests, yielding an averaging of 182 yards on the ground.

"Every week, every team is going to have great backs and good running games and excellent schemes," said defensive coordinator Mel Tucker. "We just have to do our jobs. Nothing's really changed. We want to make sure that we fit the run properly, do a great job of tackling, get guys to the ball and just reduce those explosive runs. Those are the ones that hurt. The double-digit runs are the ones we have to eliminate."

The Bears have permitted six runs of over 30 yards this season after yielding only two all of last year. Four running backs have recorded their longest runs of the season against the Bears: the Packers' Eddie Lacy (56 yards) and James Starks (32), the Ravens' Ray Rice (47) and the Lions' Reggie Bush (39).

Rice entered last Sunday's game at Soldier Field with a long run of 14 yards this season before scampering 47 yards the first time he touched the ball, setting up an early touchdown.

"It's a constant battle each and every week," Trestman said. "Some teams have gotten some long runs on us certainly. We saw that the other day. But we've also been able to make some stops and find ways to shut people down. We hope we can do that again."

Part of the problem is that the Bears defense has been decimated by injuries to key players. The unit has lost cornerback Charles Tillman, linebackers Lance Briggs and D.J. Williams, and defensive tackles Henry Melton and Nate Collins.

"We don't expect that we're going to eliminate it all," Trestman said. "We're just trying to get better and we have a sense that we are. We have a sense that we are getting a little bit better. We're doing it with new guys and young guys and we know that, and that's just where we are.

"We're not where we would want to be. I think we're a work in progress. I think the guys are up for the challenge and we've got another challenge with this young running back on Sunday."

The Rams' Zac Stacy ranks second among NFL rookies in rushing this season behind Lacy, having rushed for 537 yards and three touchdowns on 129 carries. The 5-8, 214-pounder has topped 100 yards in two of his last three games with 134 yards on 26 attempts against the Seahawks and 127 yards on 27 carries versus the Titans.

"I like him," Trestman said. "He looks like he's built low to the ground. He bounces off tackles. We've got to wrap him up. He's a relentless runner. He's very impressive.

"He's a little like Rice probably in some regards. He looks a little bit like him; maybe not quite as thick on top but certainly a guy who churns those legs. He keeps moving, he can bounce outside and he's a guy that I think they feel very good about and can give them some running game."