GLENDALE. Ariz. — With the Bears needing a victory Sunday in Arizona to keep their playoff hopes alive, the defense picked a perfect time to revert to its early-season form.
The unit scored two touchdowns in a 28-13 win over the Cardinals as Zackary Bowman rolled into the end zone after recovering a fumble at the Arizona 1 and Charles Tillman intercepted a Ryan Lindley pass and returned it 10 yards for a score.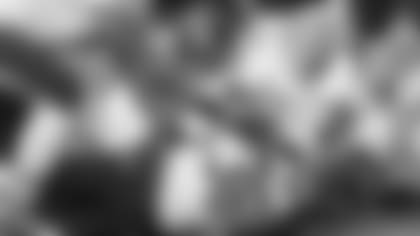 Zackary Bowman rolls into the end zone to give the Bears a 7-0 lead en route to a 28-13 win Sunday.
After returning seven interceptions for touchdowns in a six-game span earlier this season, the Bears defense hadn't scored a TD in its previous six contests before Sunday.
"Defensively, we asked them to take over and play the way we played early," coach Lovie Smith said after his team snapped a three-game skid and improved to 9-6. "Taking the ball away specifically is what I'm talking about. It was an added bonus getting a couple of scores."
When scoring a defensive touchdown, the Bears are now 21-2 since 2005, including 6-0 this year.
"Whenever the defense scores points for us, it makes everything that much better," said running back Matt Forte, who rushed for 88 yards and one touchdown on 12 carries.
With nine defensive touchdowns, the Bears are now tied with the 1961 Chargers for the second most in NFL history. The 1998 Seahawks hold the record with 10.
Tillman extended his franchise record with the ninth defensive touchdown of his career. He also set the Bears mark for most interceptions by a cornerback with 33, snapping a tie with Donnell Woolford. Tillman is third overall behind safeties Gary Fencik (38) and Richie Petitbon (37).
Line change: Despite a lack of continuity, the Bears offensive line played well, helping the rushing attack produce 152 yards on 33 carries while allowing only one sack.
With Gabe Carimi returning to his regular right tackle position in place of the injured Jonathan Scott (hamstring) and Chris Spencer stepping in at right guard, the Bears started a different line combination for the fifth straight game.
"The offensive line did a great job," said quarterback Jay Cutler.
Aches and pains: Forte (ankle) and safety Chris Conte (hamstring) exited Sunday's game in the second half with injuries.
"Those are two valuable players for us," Smith said. "But it's always about that next guy stepping up. [Safety] Anthony Walters came in and did a pretty good job as did [running backs] Armando Allen and Kahlil Bell with limited practice reps."
Bell rushed for 32 yards on 13 carries and Allen added 24 yards on five attempts.
Sack artist: With three sacks Sunday, Julius Peppers increased his season total to a team-leading 11.5. In doing so, the veteran defensive end became the first Bears player to reach double figures in back-to-back seasons since Rosevelt Colvin in 2001-02.
"That's not anything I'm interested in talking about really," Peppers said when asked about his three sacks. "The most important thing was getting a win and keeping ourselves alive in the playoff race."
On the mend: Middle linebacker Brian Urlacher, who sat out his third straight game with a hamstring injury, ran on the field before Sunday's contest in Arizona.
Asked if there's a chance the perennial Pro Bowler could play in next Sunday's season finale, Smith said: "We're definitely thinking that way; a chance. I would just say he's making a lot of improvement. I know he's feeling pretty good about where he is.
"If he's ready to go, good; if not, Nick Roach is doing a great job."