When the Bears signed star defensive end Jared Allen in March, they viewed the five-time Pro Bowler as an elite, hard-working pass rusher with excellent character and leadership skills.
After working with Allen on and off the field for the last three months, Bears coach Marc Trestman feels that the 6-6, 265-pounder has been everything he anticipated, and even more.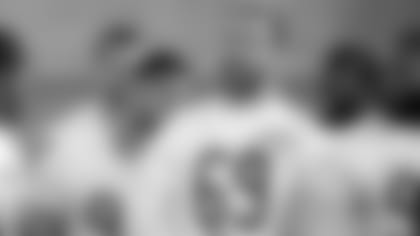 New Bears defensive end Jared Allen chats with his teammates during a break in practice.

"He really is the consummate professional," Trestman said. "As high-motor as he is, as outgoing as he is, when he comes in he's really all business. When he's on the field, he's all business. He works hard. He doesn't say much. He runs to the ball. He sets the tone for guys around him how to do it."

Allen joined the Bears after recording 128.5 sacks in 10 NFL seasons with the Chiefs (2004-07) and Vikings (2008-13), the most by any player since he entered the league. He has averaged 14.5 sacks over the last seven seasons while starting all 16 games each of the past six years.

In his first few months with the Bears, Allen has been lining up at his familiar right end position.

"What we saw him do in Minnesota and how we saw him play, we're seeing that without pads on," Trestman said. "We're seeing the effort and the energy, and certainly he's got the football intelligence and experience. I think he's in a good place. We're lucky to have him."

"He's really a no-nonsense guy," said defensive coordinator Mel Tucker. "He's going to put in his work and lead by example, and he's very knowledgeable about the game. He's a good teammate and he's very coachable. That's what we thought we were getting, so he hasn't disappointed us."

Waiting game: The Bears are still waiting to find out whether long-snapper Patrick Mannelly will return for a 17th season. The franchise's all-time leader in seasons (16) and games played (245) has spent the offseason rehabbing a hip injury.

"We're going to have to keep massaging that and seeing how that's going to work out," said
special teams coordinator Joe DeCamillis. "I've got all the respect in the world for him. Like I said last time, whatever decision he makes is going to be the best for him and his family and we have to make the same type of decision for the Bears."
The Bears currently have two long-snappers under contract: Brandon Hartson, who spent part of training camp with the team last summer; and Chad Rempel, who was signed in April after spending the last 10 years in the Canadian Football League.
"The two guys that have been working here have done a great job in the offseason," DeCamillis said. "We still have to see how it's all going to work out and how it's going to pan out. I don't know if there's a deadline, to be honest with you. I just know we want to do what's best for Pat and we want to do what's also best for the Bears."
Good start: DeCamillis has been pleased with how defensive end-turned-linebacker Shea McClellin has performed in special teams drills during offseason practices.
"So far, it's been very positive," DeCamillis said. "He's moved around really well. He didn't play a lot of special teams here in the last few years because of his role as a defensive lineman. So it's new for him, but he's really adjusted well. His drill work has gotten better every week and I think he's on the right track.
"I don't know how many plays he's going to play; that will all shake out when we get to training camp and see who the starters are and who the backups are. But he's on the right track."