Style points don't exist in the NFL; a blowout win counts exactly the same in the standings as an ugly one. Still, the Bears see plenty of room to improve despite winning two consecutive games. Chicago had just 204 net yards of offense on Sunday versus the Tampa Bay Buccaneers, but made enough plays to come out with a 21-13 victory, improving the team's record to 5-6.
With the next game just a few days away –the Bears travel to Detroit to face the Lions on Thanksgiving – the team wants to correct its mistakes while keeping the positive momentum rolling.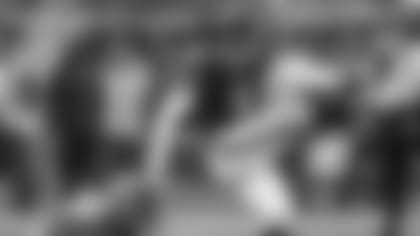 Robbie Gould
A major point of emphasis will be correcting the errors that have dogged the team early in games. Chicago has been held scoreless in the first quarter in each of its last six contests, and been shutout in the first half completely in three of the last five games, including Sunday against Tampa Bay. Adding to the early woes against the Buccaneers were penalties, as the Bears were flagged three times in the first half, which stalled offensive drives. Speaking Monday on WMVP-AM 1000's 'Waddle and Silvy Show,' quarterback Jay Cutler discussed the issues the Bears have had early in games and ways the team can go about fixing them.
"We made some mistakes," Cutler said of the first-half woes. "But we came in at halftime, made some adjustments, talked about what we liked going forward and defense got some turnovers and we put some points on the board."
After halftime, everything about the Bears' play improved. Chicago's defense forced three turnovers in the third quarter, giving the offense good field position. Cutler's unit took advantage, scoring 21 points in that quarter to give the Bears a lead they'd never relinquish.
While players wouldn't divulge too much information on what changes were made at halftime, it was clear the Bears got the message that their first-half performance was unacceptable. Some of the team's veteran players spoke up, conveying a message that hit home with everybody on the roster.
"We talk about ownership in our locker room and it's always good. It's great to have your leaders step up," placekicker Robbie Gould said Monday on WSCR-AM 670's 'Spiegel and Mannelly Show.' "Showing them the Bear Way and understanding what the Bear Way is is something that will help us down the long run, especially when we're trying to make a playoff run.
To get those young guys going in the right direction to help us win games is always a positive."
Now the Bears turn their attention to the Lions, the only NFC North team they have yet to face this season. Detroit has lost its previous two games, but is still a very dangerous team, with a fierce defense and a big-play offensive attack. The Lions are especially tough at Ford Field, where they are 4-1 on the season. The Bears don't mind winning ugly, as long as they keep winning. But given that they have just a few days to prepare before the holiday showdown, correcting the mistakes made in past performances will be imperative if the team is to return to the .500 mark and grab a win in Detroit.
"It's a tough test, (the Lions) are a heck of a team," Cutler said. "They've lost a few games, so they're reeling a bit, so we're going to get their very best shot. They're going to be ready for this one. In Detroit, on their home field, they play very well there. Their defense is playing great. Their offense is up and down at times but I'm sure they'll play well on Thursday.
"So we have to pull it together, get a good game plan. It's more of a mental game than a physical one, and since we only have a day-and-a-half of preparation, we have to get back on it."