The Bears will look to win their fifth straight game and extend their lead atop the NFC North Sunday when they host the Carolina Panthers at Soldier Field.
Chicago (5-1) enters the contest with a one-game lead over the Vikings (5-3), who lost to the Buccaneers Thursday night in Minnesota. The Packers (4-3) host the Jaguars Sunday.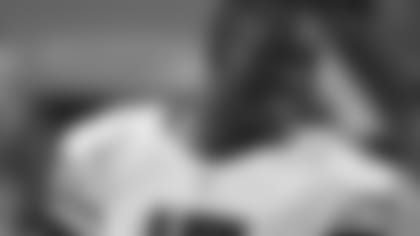 Brandon Marshall and the Bears will battle the Panthers Sunday at Soldier Field.
Jay Cutler is 10-1 in his last 11 starts and 24-9 since Week 16 of the 2009 season. The veteran quarterback has passed for 1,359 yards with eight touchdowns, seven interceptions and a 78.3 passer rating this season. In his last three games, Cutler has thrown for 717 yards with five TDs, one interception and a 97.9 rating in wins over the Cowboys, Jaguars and Lions.

Cutler suffered bruised ribs on a vicious but legal sack by Lions defensive tackle Ndamukong Suh last Monday night. After missing a few plays late in the first half while being evaluated in the locker room, Cutler returned and played the entire second half. He practiced without restrictions Thursday and Friday and is listed as probable on the injury report.

The running game has provided a major boost in recent weeks. After averaging 101 yards on the ground during their first four games, the Bears have rushed for 214 and 171 yards versus the Jaguars and Lions, respectively, in their last two contests.

Matt Forte has rushed for 203 yards on 44 carries, a 4.6 yards per carry average, in his last two games. The two most productive outings of Forte's five-year NFL career have both come against the Panthers (1-5) with 205 yards last season and 166 yards in 2010.

Cutler's favorite target continues to be Brandon Marshall, who leads the Bears in all receiving categories with 41 catches for 577 yards and four touchdowns. Marshall is on pace to shatter single-season Bears records with 109 receptions and 1,538 yards.

The Bears defense has fueled the team's four-game winning streak, scoring five touchdowns while allowing only three TDs in helping outscore the Rams, Cowboys, Jaguars and Lions 111-34. The Bears lead the NFL in points allowed per game (13.0), takeaways (21) and sacks per game (3.5).

Cornerback Charles Tillman has been named NFC defensive player of the week after each of the last two games. He returned an interception 36 yards for a touchdown against the Jaguars and then held Lions star Calvin Johnson to three receptions for a season-low 34 yards.

In last season's 34-29 win over the Panthers, the Bears yielded 543 total yards, the most in a game since Mike Ditka's first season as coach in 1982. Carolina quarterback Cam Newton passed for 374 yards and one touchdown and rushed for 35 yards and two TDs without being sacked.

Newton has not played as well this season as he did last year when he was named NFL offensive rookie of the year and voted to the Pro Bowl after setting league records for yards passing by a rookie (4,051) and touchdown runs by a quarterback (14).

This year Newton has completed 58.4 percent of his passes for 1,387 yards with five touchdowns, six interceptions and a 79.3 passer rating.

Newton leads the Panthers in rushing with 273 yards and three TDs on 46 attempts. The workload in Carolina's backfield is shared by running backs DeAngelo Williams (50 carries for 177 yards and 2 TDs) and Jonathan Stewart (35-142-0).

Panthers receiver Steve Smith has torched the Bears over the past decade, recording 38 receptions for 665 yards and two touchdowns in four career games.

In 2005, Smith had 14 receptions for 169 yards in a 13-3 loss at Soldier Field. He returned to Chicago two months later and practically led the Panthers to a 29-21 playoff victory singlehandedly by catching 12 passes for 218 yards and 2 TDs.

Smith excelled against the Bears again last season, catching eight passes for 181 yards including gains of 53, 27, 26 and 26 yards in a 34-29 loss at Soldier Field.