With their final pick in the draft, the Bears selected Western Michigan receiver Daniel Braverman in the seventh round at No. 230 overall.
The 5-10, 177-pounder appeared in 37 games in three seasons at Western Michigan, catching 212 passes for 2,499 yards and 19 touchdowns. Last year Braverman ranked second in the nation with 108 catches for 1,367 yards and 13 TDs.
"This is a guy our scouts liked a lot, a real nifty, sudden slot receiver," said general manager Ryan Pace. "He's real instinctive in that area; knows how to get open, finds holes in zones, a real productive player and we're excited to get him."
Braverman had at least 10 receptions in each of his first four games last season, including 13 for 109 yards against Michigan State and 10 for 123 yards and one touchdown versus Ohio State.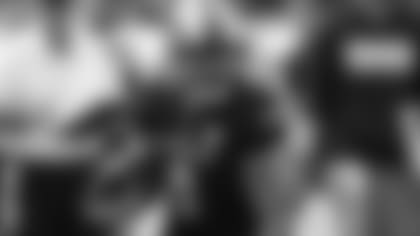 Bears seventh round pick Daniel Braverman had 10 catches for 123 yards and a touchdown versus Ohio State in 2015.


"I think I have quick reaction skills and I'm very shifty within the route and with the ball in my hands and hopefully that will translate to the NFL game," Braverman said.
"Being from south Florida, you kind of get used to playing in big games, so Michigan State and Ohio State was just another way to be able to prove myself. I go out every game with a chip on my shoulder to try to prove that I belong and that I'm one of the best players on the field, so I take that with me."
After missing the entire 2013 season with a torn ACL suffered in spring practice, Braverman rebounded from the injury to catch 86 passes for 997 yards and six TDs in 2014. He reached an even higher level last season when he was the only FBS player to have at least 100 receptions, 1,350 yards and 13 touchdowns.
With those lofty numbers, Braverman was disappointed when he failed to receive an invitation to the NFL Combine.
"I was frustrated," he said. "I feel I belong with all those receivers. But you can't worry about what you can't control. So I just had to move on and execute my Pro Day."
Braverman is confident that he can also contribute on special teams in the NFL after averaging 4.6 yards on 25 punt returns and 20.8 yards on 15 kickoff returns at Western Michigan.
"I've been punt-returning ever since little league and kick-returning ever since little league," he said. "I've been scoring touchdowns on special teams my whole life and I just take pride in being a football player. Whatever I'm asked to do, I'll do it to the best of my ability. I believe I'm a playmaker, so if the Chicago Bears need me to do a couple punt returns, I'm here to do it."