The Bears will look to win their second straight game and at least maintain a share of first place in the NFC North when they host the Detroit Lions Sunday at Soldier Field.
After their stunning 27-20 win last Monday night in Green Bay, the Bears (5-3) enter Week 10 tied atop the division with the Lions (5-3) and Packers (5-3), who host the Eagles Sunday.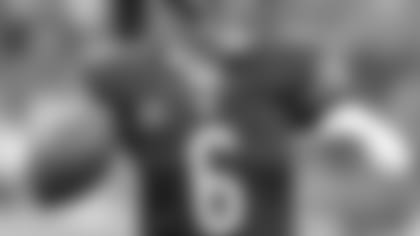 Jay Cutler returns to start Sunday after missing only one game with a torn groin muscle.
Jay Cutler returns to start against the Lions exactly three weeks after sustaining a torn groin muscle in a loss to the Redskins that was supposed to sideline him for at least four weeks.
This season Cutler has completed 64.9 percent of his passes for 1,658 yards with 12 touchdowns, seven interceptions and a 91.7 passer rating that ranks 11th in the NFL.
In 10 career games against the Lions, Cutler has passed for 2,139 yards with 14 TDs, four interceptions and a 94.7 rating. But he struggled in the first meeting between the teams this year in Detroit, throwing a season-high three interceptions and losing a fumble in a 40-32 loss.
The Bears enter Week 10 averaging 30.0 points per game, second highest in the NFL behind the Broncos (42.9) and the most in franchise history since averaging 30.3 points in 1956.
The Bears offensive line will look to build on its excellent performance against the Packers versus a disruptive Lions defensive front that's led by tackle Ndamukong Suh. In the first meeting between  the teams this season, Suh recorded two sacks, two tackles-for-loss, two quarterback hits and a forced fumble that defensive tackle Nick Fairley returned for a touchdown.
Defensively, the Bears will look to contain a potent Lions offense. Quarterback Matthew Stafford has completed 62.4 percent of his passes for 2,617 yards with 16 TDs, six interceptions and a 94.7 passer rating that ranks seventh in the NFL.
Stafford's favorite target is receiver Calvin Johnson, who is third in the league with 821 yards on 47 receptions. Running back Reggie Bush has rushed for 518 yards and two touchdowns on 119 carries and caught 31 passes for 335 yards and 2 TDs.
In the first meeting between the teams this season, the Lions scored three field goals and three TDs on six straight possessions to take a 30-10 second-quarter lead. The three touchdowns came in a 3:26 span of the second quarter.
The Bears will play without defensive end Shea McClellin, who injured his hamstring Thursday in practice. The 2012 first-round pick was named NFC defensive player of the week after recording three sacks last Monday night against the Packers.
Even after their Week 4 loss in Detroit, the Bears have still defeated the Lions in nine of their last 11 meetings, including five straight at Soldier Field since 2008.