The Bears will look to keep their NFC North title hopes alive and snap a five-game skid against their fiercest rival Sunday when they host the Packers at Soldier Field.
Green Bay (9-4) can clinch the division championship with a win over the Bears (8-5), who have lost four of five games since opening the season 7-1. Even with a loss Sunday, the Packers would still claim the crown by beating the Titans and Vikings in their final two games.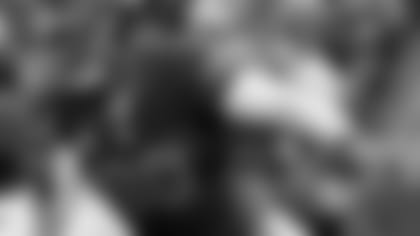 Julius Peppers and the Bears will don their 1940s throwback uniforms Sunday against the Packers.
During their current slump, the Bears have failed to score points and generate takeaways like they did earlier in the season. After averaging 29.5 points and producing 28 takeaways in their first eight games, they've averaged 14.4 points and created seven takeaways in five contests.
This season Jay Cutler has completed 59.8 percent of his passes for 2,495 yards with 16 touchdowns, 13 interceptions and an 80.9 passer rating that ranks 25th in the NFL.
Since joining the Bears, Cutler is 1-6 versus the Packers, completing 54.4 percent of his passes for 1,647 yards with eight touchdowns, 16 interceptions and a 58.9 passer rating.
In their Week 2 loss in Green Bay, the Bears mustered just one touchdown and 168 total yards while Cutler threw four interceptions and was sacked seven times.
Brandon Marshall leads the NFL with a Bears-record 101 receptions for 1,342 yards and nine TDs.
On Wednesday, Marshall said that he "really dislikes" the Packers and their players and that Sunday's game is "personal for me" and "the biggest of my career."
The Bears receiver is upset that Green Bay cornerback Tramon Williams and safety Charles Woodson bragged about holding him to two receptions for 24 yards in a Week 2 match-up when he faced double coverage on most plays.
With the Packers expected to employ the same strategy Sunday, the Bears are counting on rookie receiver Alshon Jeffery to help pick up some of the slack. Returning last Sunday against the Vikings after missing six of seven games with hand and knee injuries, Jeffery had three receptions for 57 yards and one touchdown but dropped a second potential TD pass.
The Bears also are expected to rely on running back Matt Forte, who has rushed for 834 yards and three touchdowns and caught 36 passes for 248 yards and 1 TD.
Defensively, the Bears will be challenged by Packers quarterback Aaron Rodgers, whose 104.0 career passer rating is the best in NFL history. This season the reigning league MVP has completed 66.9 percent of his passes for 3,297 yards with 29 touchdowns, eight interceptions and a 103.7 passer rating that ranks fifth in the NFL.
Rodgers is 8-2 all-time against the Bears, connecting on 68.4 percent of his passes for 2,439 yards with 16 TDs, eight interceptions and a 96.8 passer rating. The Bears have had some moderate success against Rodgers, intercepting him twice and limiting him to a 55.4 passer rating in the 2010 NFC title game and sacking him five times this season in a Week 2 loss in Green Bay.
The Bears will play Sunday without middle linebacker Brian Urlacher (hamstring), cornerback Tim Jennings (shoulder), defensive tackle Henry Melton (chest), defensive end Shea McClellin (knee), receiver Earl Bennett (concussion) and three special teams standouts who were placed on injured reserve: Robbie Gould (calf), Craig Steltz (chest) and Sherrick McManis (knee).
Gould has been replaced by Olindo Mare, who has converted 81.2 percent of his field-goal attempts (350 of 431) in 15 NFL seasons with the Dolphins (1997-2006), Saints (2007), Seahawks (2008-10) and Panthers (2011). Last year Mare made 22 of 28 tries (78.6 percent) for Carolina.
The Packers will line up without Woodson (collarbone), receiver Jordy Nelson (hamstring), running back James Starks (knee) and defensive end C.J. Wilson (knee). Outside linebacker Clay Matthews will play, however, after missing the last four games with a hamstring injury. Matthews recorded 3.5 sacks in Green Bay's 23-10 win over the Bears Sept. 13 at Lambeau Field.
The Bears went 7-3 against the Packers in Lovie Smith's first five seasons as coach from 2004-08, but have since lost seven of eight meetings including five straight to their arch rivals.
The Bears haven't even had a lead in their last four games against the Packers, falling behind 14-0, 14-0, 7-0 and 13-0 en route to losses by scores of 21-14, 27-17, 35-21 and 23-10.