After suffering their first loss of the season last weekend in Detroit, the Bears will look to rebound when they host the undefeated New Orleans Saints Sunday at Soldier Field.
The Bears (3-1) are tied with the Lions (3-1) atop the NFC North after losing to Detroit 40-32 last Sunday at Ford Field. Chicago committed four turnovers and allowed 27 points in the second quarter, including three touchdowns in a 3:26 span.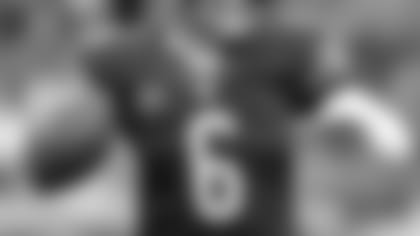 Jay Cutler and the Bears will look to improve to 4-1 Sunday when they host the New Orleans Saints.
The Saints (4-0) are one of five undefeated teams in the NFL, joining the Patriots, Broncos, Chiefs and Seahawks. New Orleans has beaten the Falcons 23-17, Cardinals 31-7 and Dolphins 38-17 at home and the Buccaneers 16-14 in Tampa.
Jay Cutler will look to bounce back after throwing three interceptions and losing a fumble that the Lions returned for a touchdown. On six previous occasions in which he tossed three or more interceptions with the Bears, he has compiled a 5-1 record in his next game.
Cutler has completed 64.2 percent of his passes for 1,010 yards with eight touchdowns, six interceptions and an 85.1 passer rating that ranks 19th in the NFL.
Matt Forte ranks fifth in the NFL in rushing with 320 yards and three TDs on 69 carries. He needs just 11 yards to pass Rick Casares as the third leading rusher in Bears history behind Walter Payton and Neal Anderson. Forte has also caught 23 passes for 160 yards.
In two career starts against New Orleans, Cutler has connected on 40 of 79 passes for 508 yards with three TDs, one interception and a 78.5 passer rating. In two games, Forte has rushed for 83 yards and 1 TD on 21 carries and caught 15 passes for 146 yards.
The Bears defense will be challenged Sunday by an explosive Saints offense that's led by quarterback Drew Brees, tight end Jimmy Graham and running back Darren Sproles. New Orleans averages 27 points and 419.5 yards per game.
Brees ranks second in the NFL with 1,434 passing yards and fifth with a 103.8 passer rating. The seven-time Pro Bowler and Super Bowl XLIV MVP completed 30 of 39 passes for 413 yards and four touchdowns last Monday night in a 38-17 rout of the Dolphins.
Brees no doubt will look to Graham, a freakishly athletic 6-7, 265-pound tight end who is tied for the NFL lead with six TD receptions and ranks second among all pass catches with 458 yards.
Sproles is also a force. The diminutive running back is similar in style to the Lions' Reggie Bush, who gashed the Bears last Sunday in Detroit, rushing for 139 yards and one TD on 18 carries. After that outing, the defense focused in practice on tackling and gap responsibilities.
The Bears rank third in the NFL in points per game (31.8) and tops in takeaways (14). The 127 points they've scored are their most in the first four games of a season since 1989 (129).
The Bears lead the all-time series over the Saints 15-12. The home team has won five of the last six meetings, with the Bears' 20-17 victory in Baton Rouge, La., in 2005 being the only exception.
The Bears lost the last meeting between the teams 30-13 on Sept. 18, 2011 in New Orleans. Brees passed for 270 yards and three touchdowns, including a 79-yarder to Devery Henderson.
Cutler completed 19 of 45 passes for 244 yards and one touchdown and was sacked six times, with five coming after the Saints had increased their lead to 30-13 early in the fourth quarter. Forte caught 10 passes for 117 yards.
In total yards, the Bears offense is tied for 13th in the NFL (16th rushing and tied for 19th passing), while the Saints defense ranks 6th (22nd against the run and 5th versus the pass). The Bears defense is 20th overall (15th against the run and 23rd versus the pass, while the Saints offense is 4th (25th rushing and 2nd passing).