SEATTLE – Bears starters are expected to see their most playing time of the preseason tonight when they face the defending Super Bowl champion Seahawks at Century Link Field.
For quarterback Jay Cutler and the offense, it provides an opportunity to battle a stellar defense in a hostile environment—much like the Bears will encounter Sept. 14 in San Francisco.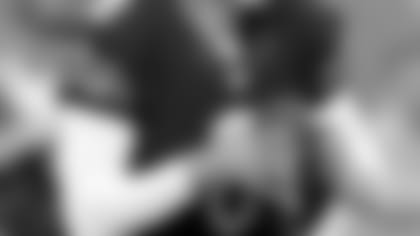 Jay Cutler has completed 16 or 22 passes for 160 yards and two touchdowns in two preseason games.
"The noise is going to be something different for us," Cutler said. "The noise, in the loudest stadium in the league, will be a good challenge for us; just to get the play off, if we have checks, if we've got alerts and go through the process of our silent count and dealing with that."
In the Bears' first two preseason games, Cutler has completed 16 of 22 passes for 160 yards with two touchdowns, no interceptions and a 123.3 passer rating. With few if any starters expected to play in next Thursday's preseason finale in Cleveland, tonight's contest presents the final tune-up for the offense in advance of the Sept. 7 regular-season opener against the Bills.
"This is a perfect setup," said offensive coordinator Aaron Kromer. "It's perfectly set up to where we're playing the Super Bowl champions. It's Game 3 of the preseason. We're trying to see where we are."
Continuing their battle to be Cutler's backup, Jordan Palmer will be the first quarterback off the Bears' bench before yielding to Jimmy Clausen.
Palmer engineered two fourth-quarter touchdown drives last Thursday night at Soldier Field, rallying the Bears from a 19-7 deficit to a 20-19 victory over Jacksonville. He completed 6 of 9 passes for 73 yards and a 91.4 passer rating on three possessions.
Palmer is expected to take over for Cutler in the third quarter with Clausen playing the fourth period. In the first two preseason games, Clausen has completed 18 of 28 passes for 244 yards with two touchdowns, one interception and a 100.9 passer rating, while Palmer has connected on 14 of 20 attempts for 177 yards with one TD, one interception and a 93.1 rating.
Still seeking a No. 3 receiver to replace the injured Marquess Wilson, the Bears will give veteran Josh Morgan the first shot at filling that role tonight against the Seahawks.
The 6-1, 220-pounder earned the opportunity by performing well throughout training camp and catching five passes for 77 yards in the Bears' first two preseason games.
Morgan signed with the Bears April 21. In six NFL seasons with the 49ers (2008-11) and Redskins (2012-13), he has caught 199 passes for 2,488 yards and 11 touchdowns in 79 games. That includes 48 receptions for 510 yards and two TDs in 2012 and 20 catches for 214 yards in 2013.
Morgan will be pushed by Santonio Holmes, who signed with the Bears last Saturday. Holmes, 30, spent his first eight NFL seasons with the Steelers (2006-09) and Jets (2010-13), catching 381 passes for 5,963 yards and 36 touchdowns.
On defense, safety Chris Conte is expected to make his preseason debut after recovering from offseason shoulder surgery.
Conte started all 16 games for the first time in his career last season, registering 95 tackles, three interceptions, seven pass breakups and one forced fumble. He had surgery in late March and missed the entire offseason program and the first two-plus weeks of training camp.
"He'll be out there and he'll be competing," said coach Marc Trestman. "He's back in it to try to show us what he can do and we're excited to have him back."
On special teams, the Bears will give veteran Micheal Spurlock a chance to show what he can do in the return game.
Spurlock signed with the Bears June 3 after appearing in 67 games over seven seasons with the Cardinals, Buccaneers, Chargers, Jaguars, Lions and Cowboys. He has averaged 9.6 yards with two touchdowns on 81 punt returns and 24.2 yards and three TDs on 107 kickoff returns.