The Bears will look to win their sixth straight game and at least maintain their game and a half lead atop the NFC North Sunday when they visit the Tennessee Titans at LP Field.
Chicago (6-1) enters the contest in first place, ahead of the Vikings (5-3) and Packers (5-3). Minnesota visits Seattle and Green Bay hosts Arizona on Sunday.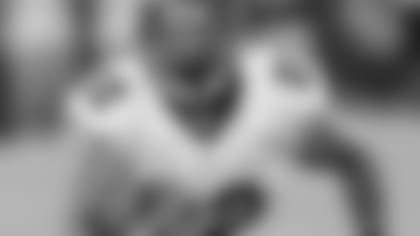 Matt Forte and the Bears will look for their sixth straight win Sunday in Tennessee.
Jay Cutler is 11-1 in his last 12 starts dating back to Week 7 of last season, a winning percentage of .917 that's the best by an NFL quarterback during that time. The veteran quarterback has passed for 1,545 yards with nine touchdowns, eight interceptions and a 78.9 rating this season.

The Bears were outplayed by the Panthers for three and a half quarters last Sunday before rallying from a 12-point deficit to win 23-22 on Robbie Gould's 41-yard field goal as time expired.

Trailing 19-7 midway through the fourth quarter, Cutler threw a 12-yard touchdown pass to tight end Kellen Davis and then set up Gould's kick by engineering a nine-play, 55-yard drive.

In the first three quarters, Cutler completed only 7 of 14 passes for 80 yards with one interception, two lost fumbles and six sacks. In the fourth period, the Bears quarterback connected on 12 of 14 passes for 106 yards with one touchdown and a 122.0 passer rating.

After scoring five touchdowns in a Week 1 win over the Colts, the Bears offense has produced just 10 TDs in six games, including only one touchdown in three of those contests.

The Bears likely will try to establish the running game Sunday with Matt Forte, who rushed for 61 of his game-high 70 yards against the Panthers in the first half. The Pro Bowl running back has gained 273 yards on 59 attempts in his last three games.

With 50 receptions for 675 yards in seven games, Bears receiver Brandon Marshall is on pace to set franchise records with a career-high 114 catches for 1,542 yards.

The Bears defense enters the game ranked No. 1 in the Aikman Ratings, which combines seven different statistical categories. During the team's five-game winning streak, the unit has returned six interceptions for touchdowns while allowing opponents to score only four TDs.

The defense's No. 1 priority-as it always is-will be to stop Tennessee's running game, which features Chris Johnson, who rushed for 141 yards on 25 carries Sunday in a loss to the Texans. The Bears rank No. 1 in the NFL in run defense, allowing just 77.9 yards per game.

After struggling a bit last year following a prolonged contract holdout, Johnson has performed in recent weeks like he did when he rushed for 2,006 yards in 2009 and 1,364 yards in 2010.

Johnson has compiled 91, 195 and 99 yards in his last three contests, and is tied for seventh in the league in rushing with 595 yards. Two weeks ago he had an 83-yard TD run in Buffalo.

Titans quarterback Matt Hasselbeck has had some recent success against the Bears defense. But the 14-year NFL veteran knows that he'll face a difficult test Sunday in Nashville.

In three starts versus the Bears since 2007-all with the Seattle Seahawks-Hasselbeck passed for 337, 242 and 258 yards with six touchdowns, no interceptions and a 96.2 passer rating.

Hasselbeck will face arguably the NFL's top cornerback tandem. Charles Tillman was named NFC defensive player of the month for October after Tim Jennings won the award in September.

Tillman returned interceptions for touchdowns in back-to-back games and held Lions Pro Bowl receiver Calvin Johnson to three receptions for a season-low 34 yards. Jennings leads the NFL with a career-high six interceptions, one of which he brought back 25 yards for his first pro touchdown.