MINNEAPOLIS — The Bears will look to rebound from their overtime loss to the Seahawks and at least maintain a share of first place in the NFC North Sunday when they visit the Vikings at the Metrodome.
The Chicago defense will try to bounce back after a late meltdown last Sunday against Seattle without two of its best players, middle linebacker Brian Urlacher (hamstring) and cornerback Tim Jennings (shoulder), both of whom were injured against the Seahawks.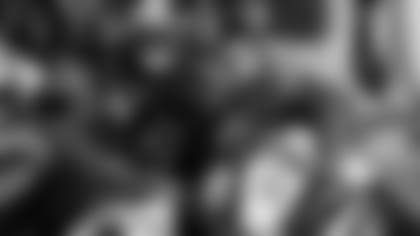 Linebacker Nick Roach tackles Vikings running back Adrian Peterson in the Bears' 28-10 win Nov. 25.
With Urlacher sidelined for the first time since he missed the final 15 games in 2009, Nick Roach will move into the middle and be replaced by veteran Geno Hayes at the strongside position.

Roach has appeared in 76 games with 55 starts in six seasons with the Bears. He made three straight starts at middle linebacker after Urlacher dislocated his wrist in the 2009 season opener. The Bears are 7-15 in games Urlacher has missed during his illustrious 13-year career in Chicago.

"Brian is a Hall of Fame linebacker," said defensive coordinator Rod Marinelli. "He's done it for so long. Nick has got great movement, great speed. He's been here for a long time. He understands the system. He's done it before and he's fast. He's a very good tackler. He brings a lot to the table."

Jennings, who leads the NFL with eight interceptions, will be replaced by veteran Kelvin Hayden. The Chicago native signed with his hometown team in April after spending his first seven NFL seasons with the Colts (2005-10) and Falcons (2011), appearing in 85 games with 47 starts.

"Tim was playing good football for us and he's a loss, but we feel very comfortable with the guys we brought in here," said defensive backs coach Jon Hoke. "Kelvin Hayden's a guy in here, Zack Bowman we brought him back. He's very familiar with the system and how we like to play. Both of those guys will have an opportunity to step up."

The defense must play better against the Vikings than it did last Sunday when Seahawks rookie quarterback Russell Wilson engineered touchdown drives of 97 and 80 yards on Seattle's final two possessions. Wilson passed for 293 yards and two TDs and also rushed for 71 yards.

"I know a lot of guys left that field pretty [ticked] off," said linebacker Lance Briggs "You want another opportunity like that because games like that you shouldn't allow to slip away and we've done that more than once this year. We need to show up in critical situations."

The Bears' primary objective Sunday will be to contain Vikings star running back Adrian Peterson, who leads the NFL in rushing with 1,446 yards and eight touchdowns.

Peterson, who tore the ACL and MCL in his left knee last Dec. 24, rushed for 108 yards on 18 carries in a 28-10 loss to the Bears Nov. 25 at Soldier Field. He was held to only 25 yards in the first half, however, as the Bears built a 25-3 halftime lead.

"Adrian Peterson is having an MVP-type of year," Briggs said. "There hasn't been a defense that has really completely shut him down. So we need to first stop the run. There's definitely an emphasis on stopping 28."

After opening the season 7-1, the Bears have lost three of their last four games with the only victory during that span coming against the Vikings. Chicago (8-4) is tied for first place in the NFC North with the Packers (8-4), who host the Lions Sunday night at Lambeau Field.

After scoring 51 points in a blowout win over the Titans Nov. 4 in Tennessee, the Bears have mustered a total of 58 points in their last four games, an average of just 14.5 points per contest.

The Bears offense is led by quarterback Jay Cutler and receiver Brandon Marshall. Last Sunday against the Seahawks, Cutler passed for 233 yards with two touchdowns and a 119.6 passer rating, while Marshall caught 10 passes for 165 yards, the most by a Bears receiver since 2002.

A revamped offensive line played well as the Bears allowed only one sack, did not commit a turnover for the second time this season and compiled 358 total yards.

After back-to-back home games, the line will face a much more difficult challenge Sunday in the raucous Metrodome against a Vikings defensive front led by end Jared Allen.

Allen, who did not record a sack in the Nov. 25 game at Soldier Field, recorded 22 last season, including 3.5 in the season finale against the Bears in Minnesota.

"We have to make sure we account for Jared Allen every time we throw the ball, and we will," said offensive coordinator Mike Tice. "And we've got to be able to run the ball efficiently like we did last time and keep ourselves in manageable third downs, and I think that's the key to the game."