SAN FRANCISCO — The Bears will look to rebound from last Sunday night's loss to the Texans and maintain sole possession of first place Monday night when they battle the 49ers at Candlestick Park.
Chicago (7-2) is a half game ahead of the Packers (7-3) atop the NFC North and a half game ahead of the NFC West-leading 49ers (6-2-1) in the race for the second seed in the playoffs.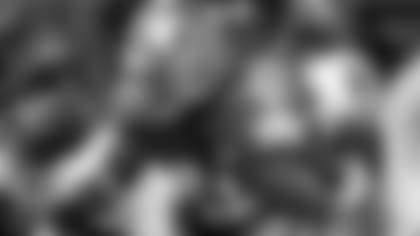 Bears cornerback Charles Tillman forces a Frank Gore fumble in a 2009 game in San Francisco.
Monday night's game will feature a battle of backup quarterbacks. Jason Campbell will make his first start of the season for the Bears in place of the injured Jay Cutler, who sustained a concussion late in the second quarter against the Texans.
The 49ers announced Monday that Alex Smith, who suffered a concussion last Sunday in a 24-24 tie with the Cardinals, had been ruled out of the game after being evaluated by team medical director Dr. Dan Garza.
Campbell signed a one-year contract with the Bears on the first day of free agency in March after starting 70 of 71 games played in six NFL seasons with the Redskins (2006-09) and Raiders (2010-11). Last year he led Oakland to a 4-2 start before breaking his collarbone, completing 100 of 165 passes for 1,170 yards with six touchdowns, four interceptions and an 84.2 passer rating.
"It's what he knows and the experience that he can call on from starting as many games as Jason has," said coach Lovie Smith. "He's been out there before. I still think you go back to there's no substitute for experience. He's been in this situation before.
"When he decided to come to Chicago, he came here with this in mind: 'I'm going to a good football team. If they need me, I'm going to step up and hopefully not miss a beat.'"
Playing the second half against the Texans, Campbell connected on 11 of 19 passes for 94 yards and a 70.4 passer rating, but generated only three points and four first downs on seven possessions.
The Bears didn't allow a sack versus Houston, but struggled moving the ball on the ground as Matt Forte rushed for only 39 yards on 16 carries with a long run of just eight yards. The offense committed turnovers on each of its first three possessions and a fourth later in the first half.
Brandon Marshall has performed at a Pro Bowl level this season; he entered Week 11 ranked second in the NFL with 67 catches and third with 904 yards. But the Bears haven't received much production from their other receivers, something they hope will change Monday night with the anticipated return of rookie Alshon Jeffery, who has missed the last four games with a hand injury.
The 49ers lead the NFL in points allowed per game (14.1) and their defense ranks third overall, having yielded an average of 292.1 yards per outing. Linebacker Aldon Smith tops the NFC and ranks third in the league with 9.5 sacks.
"They are very sound at what they do," Campbell said. "Their front seven is very good, their corners are really good. The one thing you look at the film that you can respect that they do the best is the way that they run to the ball. They sprint to the ball. They just play together as a unit. I think that's what makes them so good. They feed off each other, kind of like our defense."
The Bears boast a dominant defense that ranks No. 1 in the Aikman Ratings, which combines seven different statistical categories. They lead the NFL with 30 takeaways and became the first team in league history to return seven interceptions for touchdowns in the first eight games of a season.
The Bears will be challenged Monday night by a 49ers rushing attack that averages an NFL-leading 170.2 yards per game and features running back Frank Gore, a three-time Pro Bowler who ranks eighth in the league in rushing with 753 yards and five touchdowns on 140 carries.
The last time he faced the Bears in 2009, Gore rushed for 104 yards on 25 carries and scored the game's only touchdown on a 14-yard run, leading the 49ers to a 10-6 win in San Francisco.
Kaepernick, a 2011 second-round pick from Nevada, connected on 11 of 17 passes for 117 yards and an 84.7 passer rating in relief of Smith against the Rams while also rushing for 66 yards and one touchdown.