The Bears defense will be challenged by one of the NFL's most prolific receivers Sunday when they face Odell Beckham Jr. and the New York Giants at MetLife Stadium.
Known for his acrobatic catches and flamboyant personality, Beckham has become the fastest receiver in NFL history to produce 3,500 yards, reaching that plateau last Monday night in his 36th career game in a 21-20 win over the Bengals.
Asked what makes Beckham so dangerous, Bears coach John Fox cited the receiver's speed, quickness, athleticism, hands, leaping ability and route running. "The guy is really the total package at receiver," Fox said. "This guy is pretty special."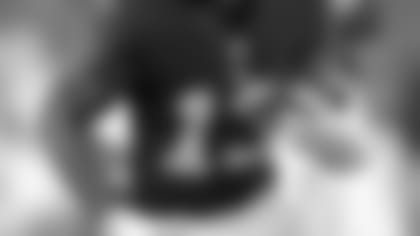 Odell Beckham Jr. is tied for 10th in the NFL with 54 receptions and ranks seventh with 773 yards.


Beckham is tied for 10th in the NFL with 54 receptions and ranks seventh with 773 yards. He has caught six touchdown passes, all in the last five games. His best performance of the season came Oct. 16 when he had 10 catches for 222 yards and two TDs in a 27-23 win over the Ravens.
"He's an explosive great player at his position," Fox said. "I know he had some mishaps a little bit early in the season. But when I turn on the tape you see all those explosive things people talk about."
Those mishaps Fox referred to involved Beckham losing his temper multiple times on the sideline earlier this season during a 29-27 loss to the Redskins. After the game, Giants coach Ben McAdoo said that the receiver "needs to control his emotions better and become less of a distraction to himself and his teammates."
Last season, Beckham let then-Panthers cornerback Josh Norman get under his skin and ultimately drew a one-game suspension for a vicious helmet-to-helmet hit on Norman.
While opponents have been able to get in Beckham's head, the inexperienced Bears secondary will focus more on executing their assignments than trying to unhinge the Giants receiver.
"We don't really believe in that," said defensive coordinator Vic Fangio. "We have such young guys back there, they're just hanging on to get the next play and figure out what they are doing."
The Bears' top cornerback, veteran Tracy Porter, has excelled against some of the league's top receivers this season. Last Sunday he helped limit Buccaneers star Mike Evans to four receptions for 66 yards. But Beckham presents a unique challenge.
"This guy's a different guy," Fox said. "Evans is a big speed guy. This guy is speed, quickness and route running. This guy plays bigger than his size numbers, too, because of his leaping ability, his length, hands. He's got big hands, really good hands. He's a different type of assignment."
Beckham excels picking up yards after the catch, an aspect of the game the Bears must limit to contain the Giants star.
"Once he gets the ball in his hands, he's a great athlete," Porter said. "We just definitely have to be mindful of it and do what we can and play sound football and not let him get those explosive plays. He's obviously a good player that everyone pays attention to that can do some things with the ball in his hands. It's going to be another challenge for us in the secondary this week."