DETROIT — The Bears will look to improve to 4-0 and increase their lead atop the NFC North to two games Sunday when they battle the second-place Lions (2-1) at Ford Field.
The Bears are 3-0 for just the third time in the last 22 seasons. On both previous occasions, they won their division and advanced to the NFC Championship Game, beating the Saints to reach Super Bowl XLI in 2006 and losing to the Packers in 2010.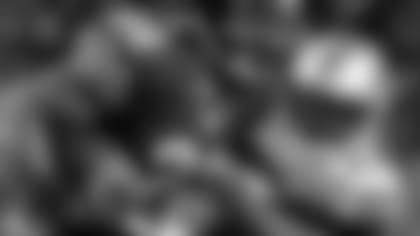 Running back Matt Forte and the Bears will battle the Detroit Lions Sunday at Ford Field.
On Sunday, Marc Trestman can join Hall of Famer George Halas as the only head coaches in Bears history to win their first four games. Halas won his first five en route to a 10-1-2 season in 1920.
The Bears offense is led by quarterback Jay Cutler, who has completed 67.3 percent of his passes for 693 yards with six touchdowns, three interceptions and a 94.2 passer rating while only being sacked three times. Running back Matt Forte has rushed for 225 yards and two TDs on 55 carries.
They'll face a Lions defense that's led by a stout line that features one of the NFL's best tackle tandems in Ndamukong Suh and Nick Fairley.
The Bears defense generated five takeaways and scored two touchdowns in last Sunday night's 40-23 win over the Steelers. After leading the NFL with 44 takeaways last season, the Bears have picked up this year right where they left off. They topped the league with 14 takeaways during the preseason and are once again No. 1 through entering Week 4 of the regular season with 11.
The Bears also lead the NFL with 44 points off takeaways. They've scored three defensive touchdowns in three games this season after producing nine last year, which tied for the second most in league history behind the 1998 Seattle Seahawks, who had 10.
The Bears will be challenged by a potent Lions offense that ranks fourth in the NFL in total yards. Matthew Stafford has thrown for 1,020 yards and ranks seventh in the league with a 99.9 passer rating. Calvin Johnson has 17 receptions for 268 yards and three touchdowns.
The Bears are hopeful that Charles Tillman will be able to play Sunday. The Pro Bowl cornerback is listed as questionable with knee and groin injuries.
Last season, Tillman limited Johnson to three receptions for 34 yards Oct. 22 in Chicago and five catches for 72 yards Dec. 30 in Detroit, helping the Bears sweep the season series. In Johnson's other 14 games in 2002, he averaged eight catches and 133 yards, ultimately setting an NFL single-season record with 1,964 yards.
With defensive tackle Henry Melton out for the season after tearing his ACL in last Sunday night's win over the Steelers, Nate Collins is expected to start in his place.
The Bears lead the all-time series over the Lions 96-65-5 and have won nine of 10 meetings since 2008. Chicago has won seven of the last nine match-ups in Detroit.
The Bears won the last meeting between the teams 26-24 in the 2012 season finale at Ford Field. Chicago won the turnover battle 4-0 and cruised to a 20-3 lead late in the first half, but had to sweat out a nail-biter in part because the offense had to settle for field goals after starting drives at the Detroit 24, 23 and 13 following takeaways.
The Bears defense generated three of the four takeaways but let the Lions back in the game by allowing three 80-yard touchdown drives, all culminating in Stafford TD passes.
Cutler completed 18 of 31 passes for 257 yards with one touchdown and a 95.8 passer rating while being sacked twice. Forte rushed for 103 yards on 24 carries. Earl Bennett caught five passes for 109 yards including a 60-yard TD.
In nine career starts against the Lions, Cutler has completed 158 of 248 passes for 1,822 yards with 12 touchdowns, one interception and a 100.2 passer rating. In 10 contests, Forte has rushed for 877 yards and five TDs on 181 carries and caught 29 passes for 322 yards and three touchdowns. In 10 career games, Julius Peppers has recorded 11 sacks with five forced fumbles.