One day after signing safety Quintin Demps, the Bears addressed their secondary again Saturday by inking cornerback Prince Amukamara to a one-year contract.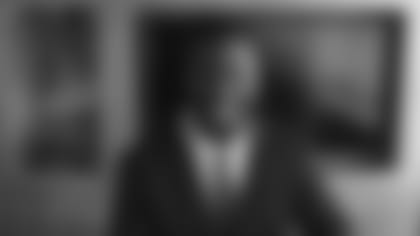 New Bears cornerback Prince Amukamara signs his contract Saturday at Halas Hall.

The 27-year-old has appeared in 69 games with 57 starts over six seasons with the New York Giants (2011-15) and Jacksonville Jaguars (2016), registering 310 tackles, seven interceptions, 49 pass breakups, seven tackles-for-loss, three forced fumbles and two fumble recoveries.
Amukamara revealed on a conference call Saturday evening that he chose to join the Bears over another team that was offering him a long-term deal.
"The Bears really just made it worth my while and not only because of how much the one-year deal was," Amukamara said. "But it was mainly because of the opportunity that was posed here and that's what helped my decision into coming here."
The Bears' porous 3-13 record last year didn't scare away Amukamara, even after he helped hand them one of their worst losses. The Jaguars also went 3-13 in 2016, but one of their wins came when they turned a 13-0 fourth-quarter deficit into a 17-16 victory over the Bears.
"When we played you guys it was definitely a game that you guys could have won," Amukamara said. "I feel like the Bears were in games and I think it was similar to our problem down in Jacksonville; it's just that we couldn't finish and we couldn't close them out.
"I definitely feel that the record doesn't really measure the team's grit and the team's fight and competitiveness. That's something that stood out to me and I was very encouraged by that because it was similar to our own team in Jacksonville. We were 3-13 also, but we were still in games and we didn't just lay down, we just didn't quit. We kept fighting and that's what I saw in the Bears."
Amukamara was selected by the Giants with the 19th pick in the first round of the 2011 NFL Draft out of Nebraska.  The 6-foot, 207-pounder won a Super Bowl ring as a rookie, playing in seven games with New York, all as a reserve.
Last season he appeared in 14 contests with 12 starts for the Jaguars, registering 49 tackles and six pass breakups. Amukamara did not record any interceptions and intends to use that goose egg on his stat line as motivation moving forward. But he remains confident in his ability.
"Stats are great for players when it works in your favor," Amukamara said. "But when it doesn't I feel like when you watch film, that's the ultimate eye test. On the stat sheet I didn't look as sexy as everybody else, but I think individually and personally as a player I really just believe that I'm a lock-down corner and my strength is just playing man, mano-y-mano. I'm going to line up on the best guy and I'm trying to take him out of the game."
Take a look at new Bears defensive back Prince Amukamara in action. Amukamara has recorded 310 tackles, seven interceptions and 49 pass breakups in 57 starts for the Giants and Jaguars.