The Bears on Wednesday signed free-agent defensive end Turk McBride to a one-year contract.
The 6-2, 278-pounder from Tennessee has appeared in 66 games with 24 starts over six NFL seasons with the Chiefs (2007-08), Lions (2009-10) and Saints (2011-12), recording 119 tackles, 9.5 sacks, six forced fumbles and three fumble recoveries.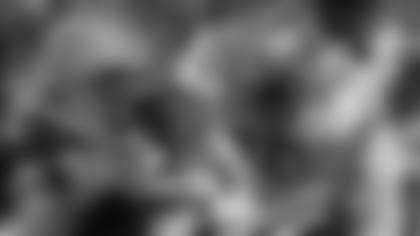 New Bears defensive end Turk McBride sacks Packers quarterback Aaron Rodgers.
"I'm extremely excited," McBride said. "I'm definitely pleased to be with a program like that and I can't wait to go forward. What appealed to me about the Bears is that they have a plan for me."

McBride's new teammates should already be familiar with his playmaking ability; he generated a takeaway by forcing a fumble on a sack of Jay Cutler in each of his last three games against the Bears. He did it twice in 2010 while playing for the Lions and once in 2011 with the Saints.

McBride, 27, was selected by the Chiefs in the second round of the 2007 draft (54th overall). His most productive NFL season came in 2010 when he registered 33 tackles, five sacks, three forced fumbles and one fumble recovery while playing in 15 games for the Lions.

McBride is eager to join a Bears defense that features three perennial Pro Bowlers under contract in Julius Peppers, Lance Briggs and Charles Tillman, and two others who were voted to the Pro Bowl for the first time last season in Henry Melton and Tim Jennings.

"It's going to be absolutely amazing for me to play next to those people and just be in the same locker room as them," McBride said. "I believe just being around them is going to elevate my game to exactly where it needs to be for me to be where I need to be."

McBride is the third player the Bears have signed on the unrestricted market since free agency began March 12. He follows left tackle Jermon Bushrod and tight end Martellus Bennett, both of whom agreed to contracts with the Bears a few hours into free agency.

McBride played with Bushrod on the Saints and is excited about rejoining his teammate.

"I can't wait," McBride said. "We had a good time down in New Orleans the last two years. I just hope things continue to go the same way."