The Bears on Saturday signed receiver Santonio Holmes to a one-year contract and terminated the contract of receiver Eric Weems.
Holmes has appeared in 103 games with 89 starts in eight NFL seasons with the Steelers (2006-09) and Jets (2010-13), catching 381 passes for 5,963 yards and 36 touchdowns.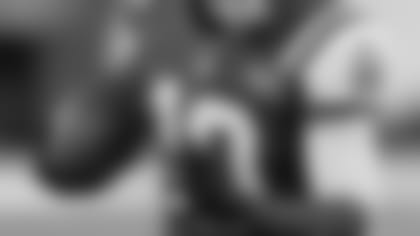 Santonio Holmes
Holmes, 30, was selected by the Steelers with the 25th pick in the first round of the 2006 draft out of Ohio State. In 2008, the 5-11, 192-pounder was named MVP of Super Bowl XLIII after catching nine passes for 131 yards, including a game-winning 6-yard touchdown with :35 remaining.
The most productive season of Holmes' career came in 2009 when he had 79 receptions for 1,248 yards and five TDs. In 2010, he was traded to the Jets in exchange for a fifth-round draft pick.
Rebounding from a serious foot injury that required surgery and limited him to four games in 2012, Holmes appeared in 11 contests last season, catching 23 passes for 456 yards and one TD.
Holmes is the second receiver the Bears have signed since No. 3 wideout Marquess Wilson broke his collarbone in practice Aug. 4, following Greg Herd.
Weems played in 32 games with one start the past two seasons with the Bears, catching three passes for 35 yards, averaging 16.0 yards on 18 kickoff returns and compiling 25 special-teams tackles. He joined the team in 2012 after spending his first five NFL seasons with the Falcons.
Weems entered training camp as the leading candidate to become the Bears' primary punt and kickoff returner. He then averaged 23.2 yards on six kickoff returns in the first two preseason games, and lost a fumble on a kickoff return in last Thursday night's win over the Jaguars.
Weems was also in the mix to replace the injured Wilson as the Bears' third receiver, but he did not catch a pass in the two preseason contests.