After six days off, the Bears returned to the practice field Monday with a couple of new faces as the team announced the signings of quarterback Jordan Palmer and linebacker Larry Grant.
Palmer originally joined the Bears in training camp after third-string quarterback Matt Blanchard broke his hand. Playing the first half of the preseason finale against the Browns, Palmer completed 11 of 17 passes for 111 yards with one touchdown and a 102.8 passer rating.
The Bears were so impressed with how Palmer performed in that contest that they re-signed him to back up Josh McCown after losing Jay Cutler for at least four weeks with a torn groin muscle. Cutler was injured Oct. 20 in a loss to the Redskins.
"[Palmer] became very affluent in our offensive language very quickly," said coach Marc Trestman. "He was very motivated on his own to get himself ready because we were getting ready for a season at the time we were getting ready to play the last preseason game.
"He impressed us. He was very efficient running the offense when he was in there on very short notice. We feel good that he's available and we can bring him in here to back up Josh."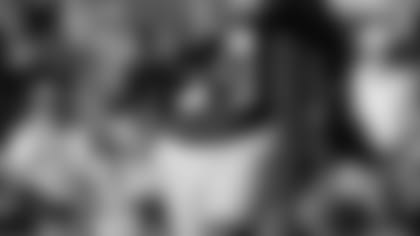 Larry Grant has appeared in 66 games with 11 starts in five seasons with the Rams (2008-10) and 49ers (2011-12).
The younger brother of Cardinals quarterback Carson Palmer, Jordan Palmer has appeared in four NFL games over four seasons with the Bengals (2008-10) and Jaguars (2012), completing 10 of 15 passes for 59 yards with two interceptions and a 34.4 passer rating.
Grant has appeared in 66 games with 11 starts in five seasons with the Rams (2008-10) and 49ers (2011-12), registering 93 tackles, five passes defensed and four forced fumbles. He has contributed primarily on special teams and will provide depth at linebacker with Lance Briggs expected to be sidelined for about six weeks with a fractured shoulder.
Grant was selected by the 49ers in the seventh round of the 2008 draft out of Ohio State. He was suspended by the NFL for the first four games this season for violating the league's policy on performance enhancing drugs.
To make room on the roster for Palmer and Grant, the Bears waived tight end Steve Maneri and cornerback C.J. Wilson. After clearing waivers, Wilson was signed to the practice squad.
The Bears made two other practice squad moves, signing receiver Terrence Toliver and terminating the contract of receiver Ricardo Lockette. Toliver spent the offseason with the Bears and caught seven passes for 63 yards in the preseason before being waived Aug. 31 as part of final cuts.
Three's a crowd: Even though the Bears were one McCown injury away from having to install receiver Earl Bennett as their emergency quarterback against the Redskins, they will continue to activate only two quarterbacks on game day.
"That's the best mix that works for us in terms of having the right mix of players for starters, backups and special teams players," said general manager Phil Emery. "We've researched that in a number of different ways and it's what currently gives us the best roster flexibility to have the best team on the field to win games."
"It was a little shaky [in Washington]," Trestman said. "[But] we'll go that route again. We'll play the analytics there and go that route again to try to free up an extra player that can help us in some phase of our football."
No pattern: Cutler will miss games after getting hurt for the fourth straight season, but Emery isn't concerned that the quarterback is injury prone.
"I don't see a pattern more with him than I do with any other player in the NFL," Emery said. "I don't know too many players in this league that don't get some type of injury. This is a very physical and tough sport. There have been a number of quarterbacks that have been hurt over time, including players like Tom Brady."
Cutler missed one start in 2010 after suffering a concussion while being sacked nine times in the first half of a loss to the Giants. He was sidelined for the final six games in 2011 with a broken thumb and sat out one contest last season with a concussion. The groin injury Cutler suffered last Sunday is expected to keep him out for a minimum of three games.
"We'd like to see him back as soon as possible," Emery said. "He's a very valuable part of our team."