The Bears on Monday signed wide receiver Josh Morgan to a one-year contract.
The 6-1, 220-pounder spent his first six NFL seasons with the 49ers (2008-11) and Redskins (2012-13), catching 199 passes for 2,488 yards and 11 touchdowns in 79 games.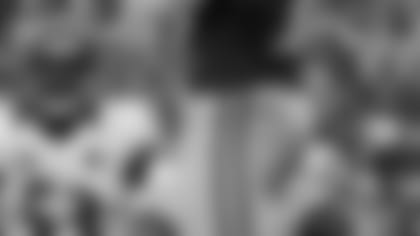 Josh Morgan

"It's a fantastic opportunity," said Morgan, who intends to be on hand when the Bears begin their voluntary offseason program Tuesday at Halas Hall. "I'm very excited about it. I'm very excited to be a Bear and I'm very excited to get started [Tuesday]."

Morgan was selected by the 49ers in the sixth round of the 2008 draft out of Virginia Tech. A reserve as a rookie who averaged 28.2 yards on 13 kickoff returns, he started 15 of 16 games played in 2009, recording 52 receptions for 527 yards and three TDs.

Morgan caught 44 passes for a career-high 698 yards and two touchdowns while playing in 16 games with 11 starts in 2010. After a promising start in 2011, he broke his leg and missed the final 11 games.

Morgan signed with the Redskins in 2012, joining the team he cheered for while growing up in Washington D.C. He had 48 receptions for 510 yards and two TDs in 16 games in 2012 and 20 catches for 214 yards in 14 contests in 2013.

Last season Morgan also averaged 19.9 yards on 12 kickoff returns and 7.4 yards on eight punt returns.

The Bears now have nine receivers on their roster. The crowded group behind starters Brandon Marshall and Alshon Jeffery also includes Josh Bellamy, Domenik Hixon, Terrence Toliver, Eric Weems, Chris Williams and Marquess Wilson.

"Competition is why I play the game," Morgan said. "I love competition. It's something I'm addicted to. It's a great opportunity. If anything, [the other Bears receivers] are going to push me to be better."

Several of the potential backup receivers also have experience in the return game, which should lead to an interesting competition to replace departed free agent Devin Hester.

"I'll help out in any way possible," Morgan said. "Anything I can do to win the Super Bowl, I'm willing to do it, whether it's special teams, kick returner or punt returner. I've played it all in the NFL and college, so anything I can do."