With the Rams headed back to Los Angeles, we take a look back at the eight regular-season games the Bears played in St. Louis during the Rams' 21 seasons there from 1995-2015.
Sept. 24, 1995
Rams 34, Bears 28
In the Bears' only game against the Rams at Busch Stadium, Erik Kramer completed 27 of 38 passes for 317 yards with a career-high four touchdowns, no interceptions and a 131.1 passer rating. His favorite target was Jeff Graham, who caught six passes for 145 yards and one TD.
But Kramer lost a fumble that the Rams returned 73 yards for a touchdown and St. Louis quarterback Chris Miller threw for three TDs. The Bears closed to within 31-28 on Kramer's 47-yard TD pass to Graham with 4:33 remaining, but they failed to cross the 50 on their final two possessions.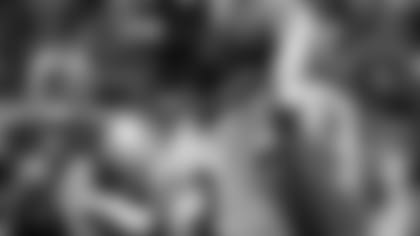 Devin Hester returned two kickoffs for touchdowns in a Monday night victory over the Rams in 2006.


Dec. 14, 1997
Bears 13, Rams 10
The Bears rallied from a 10-7 deficit as Jeff Jaeger kicked field goals of 27 and 21 yards in the fourth quarter on Sunday Night Football. Chicago's only touchdown came on a 55-yard pass from Kramer to Curtis Conway that tied the game 7-7 in the second quarter.
The Bears outgained the Rams 309-165 and allowed St. Louis to convert just 1-of-10 third-down opportunities. The Bears intercepted three passes, two by cornerback Walt Harris. Darnell Autry led the Bears in rushing with 62 yards on 26 carries.
Dec. 26, 1999
Rams 34, Bears 12
The Bears compiled 434 yards but trailed at one point 31-0 in the third quarter. Rams quarterback Kurt Warner passed for 334 yards and three touchdowns. Marshall Faulk rushed for 54 yards on 10 carries and caught 12 passes for 204 yards and one TD.
Bears receiver Bobby Engram had 13 receptions for 143 yards and two touchdowns. The 13 catches are still tied for the second most in franchise history behind Jim Keane's 14 on Oct. 23, 1949. Engram later had 14 receptions in a 2007 game when he played for the Seahawks.
Nov. 18, 2002
Rams 21, Bears 16
Rams quarterback Marc Bulger passed for 347 yards and two touchdowns in a game that St. Louis never trailed. His top target was Isaac Bruce, who caught six passes for 141 yards.
Paul Edinger kicked field goals of 37, 48 and 50 yards for the Bears, who scored their only touchdown on Anthony Thomas' 13-yard run. Thomas rushed for 61 yards on 14 carries, Chris Chandler passed for 157 yards, and Marty Booker caught seven passes for 65 yards.
Dec. 11, 2006
Bears 42, Rams 21
Devin Hester continued his remarkable rookie season, returning kickoffs of 94 and 96 yards for touchdowns in a Monday night victory. In the process, he became just the sixth player in NFL history with two kickoff return TDs in a game.
"A lot of us knew that he was a special kid," receiver Muhsin Muhammad said after the nationally-televised game. "But I think the whole world had a chance to see that tonight, that this guy's got some special talent."
Rex Grossman posted a 114.4 passer rating, a vast improvement over his 1.3 rating a week earlier in a division-clinching win over the Minnesota Vikings at Soldier Field.
"Rex Grossman went through a lot this past week," coach Lovie Smith said after the win. "His game has been dissected by everyone that knows anything about football. There was a lot of pressure on him. I thought he really stepped up to the plate and played outstanding ball. He did exactly what we expect him to do at the quarterback position."
Nov. 23, 2008
Bears 27, Rams 3
Rookie running back Matt Forte rushed for 132 of the Bears' 201 yards, their most on the ground in seven years. On his team's three touchdown drives, Forte gained 74 yards on six carries including TD runs of 13 and 47 yards.
The Bears defense generated five sacks to match its total from the previous five games, registered four interceptions and allowed just 14 yards rushing on 19 attempts.
"It was a confidence booster for the defense and for the line," said defensive end Adewale Ogunleye, who recorded two sacks. "It's been a long time coming. I knew it was going to come, it was just a matter of time."
Nov. 24, 2013
Rams 42, Bears 21
The Bears gave up touchdowns on the Rams' first three possessions, allowed a season-high 258 yards rushing and had three TDs nullified by penalties.
"You win as a team and you lose as a team," coach Marc Trestman said after the game. "Today, we lost as a team. We lost in all three phases of our football. We didn't play well enough to win."
Rams running back Zac Stacy rushed for 87 yards on 12 carries in the first half before exiting with an injury. Replacement Benny Cunningham then gained 94 of his game-high 109 yards in the second half.
Nov. 15, 2015
Bears 37, Rams 13
Jay Cutler passed for 233 yards and three touchdowns in the first half against a Rams defense that had allowed just two TDs in its previous four home games. In the process, the 10-year veteran posted a career-high 151.0 passer rating.
Tight end Zach Miller turned a short pass into an 87-yard TD and running back Jeremy Langford transformed a perfectly-executed screen into an 83-yard TD.
Langford starred in place of the injured Forte, catching seven passes for 109 yards and one touchdown and rushing for 73 yards and 1 TD on 20 carries. Six days after making a one-handed game-winning TD catch against the Chargers, Miller had five receptions for 107 yards and two TDs.
After playing five straight games decided by three points or less, the 24-point victory was the Bears' most lopsided since Nov. 4, 2012 when they beat the Titans 51-20 in Tennessee.