The Bears are one of eight 2-0 teams in the NFL, but they won't head into Sunday night's game against the 0-2 Steelers in Pittsburgh feeling overconfident or invincible.
Coach Marc Trestman is thrilled with the resiliency his team showed in rallying to beat the Bengals and Vikings the first two weeks of the season. But he knows there's a fine line between winning and losing in the NFL and that the Bears' record could just as easily be 0-2.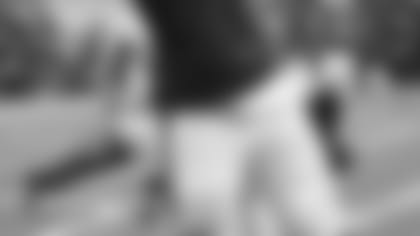 Martellus Bennett hauls in the winning TD pass Sunday against the Vikings. "It's extremely thin," Trestman said. "In the National Football League, it's very thin. You can see it. We're two or three plays away from sitting here on the opposite side of both games, no doubt about it. You've got to play them all for 60 minutes and if you keep playing you hope good things can happen. I think that's what we get out of it."
Despite the 2-0 record, Trestman realizes that the Bears must get better in several critical areas and hopes to see those improvements beginning Sunday night at Heinz Field.
"The best way to approach it is just take what you've learned, positively and negatively, from the games you've played and try to decipher what you need to get better through both," Trestman said. "I think we've shown to be a resilient football team for two weeks. We've been fortunate to be able to work through adversity.
"Our guys are playing smart, they're playing disciplined, and they're giving themselves a chance to win games in the fourth quarter. That's all you really want to do in the National Football League. You're seldom going to blow anybody out. You're going to have to play four quarters, and every minute counts. If you stay disciplined and stay poised and take care of the ball, you've got a chance."
Catch this: Running back Matt Forte established a career high with 11 receptions for 71 yards in Sunday's win over the Vikings, with several coming on check-down throws from Jay Cutler.
"They're a coverage team, although we did see more man-to-man coverage than we expected to," Trestman said. "They did mix it up by personnel grouping and by formation. But Matt was in position as a secondary receiver most of the time and Jay did a good job of getting through his progressions and getting the ball to him."
Since he entered the league in 2008, Forte ranks third among NFL running backs with 282 receptions and 2,437 receiving yards. He's also third in both categories on the Bears' all-time list among running backs behind Hall of Famer Walter Payton and Neal Anderson.
Off and running: Vikings rookie Cordarrelle Patterson returned Robbie Gould's opening kickoff 105 yards for a touchdown Sunday. It was the first kickoff return TD the Bears have yielded since Sept. 30, 2007 when the Lions' Casey FitzSimmons brought back an onside kick 41 yards in Detroit.
"They did a very good job and we didn't get exactly the directional kick that we wanted to, and Robbie talked about that [Monday] in the meeting," Trestman said. "But we've got to have Robbie's back too and we got stacked up a little bit.
"We knew [Patterson] was a big physical guy who could return the ball. We worked hard at trying to defend him during the week and we just didn't get it done. It's a collective effort certainly in those situations. Everybody's got to be in the right spot. When you get stacked up, there's a chance you leave a lane open and that's exactly what happened."
Reserving judgment: Playing in the rain Sunday, the Bears recorded only one sack for the second straight week. But the field conditions are one reason Trestman isn't jumping to any conclusions.
"It's tough to rush the passer in wet weather for both sides," Trestman said. "It's tough to get a pass rush with a soggy field. With rain really the advantage goes to the offense because [the offense] can sit back there and protect. It's really hard to configure a pass rush to get close.
"We got close at times, and we got close to get [Christian] Ponder outside the pocket. We just didn't do the job in our rushes to contain him the two or three times that he got outside. I thought Christian played well. He made some significant plays in the game to keep the clock running to keep their offense on the field, and he extended plays with his feet. But I think that we've got to wait for the right surface and more time to see where we are with our pass rush."