The demise of Packers star Aaron Rodgers apparently has been greatly exaggerated.
While his numbers aren't in the same high stratosphere as usual this season, Rodgers still looks to Bears coaches and players like the same quarterback who has won two NFL MVP awards.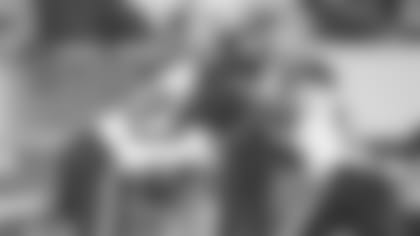 Willie Young helped take down Aaron Rodgers for a sack during last season's win over the Packers on Thanksgiving.


"I still see the great quarterback that he is with the release and the scrambling, the mobility, the creativity and the accuracy," said defensive coordinator Vic Fangio. "[The Packers have] gotten beat by maybe the two best teams in the NFL currently in Dallas and Minnesota in tight games. They're still the same offense they've always been and he's still the same quarterback he's always been."
Rodgers has passed for 1,170 yards with 10 touchdowns and four interceptions in five games this season. His 60.2 completion percentage and 88.4 passer rating would be the worst of his career since he replaced Brett Favre as the Packers' starting quarterback in 2008.
Since throwing seven TD passes and one interception in the first three games, Rodgers has tossed three TD passes and three interceptions the past two weeks against the Giants and Cowboys.
"Aaron Rodgers is Aaron Rodgers," said outside linebacker Willie Young. "He's a heck of a quarterback. I enjoy playing against him. It's a challenge in the pocket to get to him. Pretty poised, I mean, he's Aaron Rodgers, man. There's nothing new here. He's a well-rounded, all-around quarterback. There's nothing he can't do. There's no throw that he can't make and he's going to fight down to the last second."
Rodgers owned the Bears before they beat him last Thanksgiving night in Green Bay, having won the previous 10 contests he had started and finished against Chicago. But in that 17-13 win, the Bears held Rodgers to a 62.4 passer rating that remains his lowest in 66 career home starts.
In the process, they intercepted him once and forced him to throw four straight incomplete passes from the Chicago 8 in the final minute of the game to seal the victory.
"Anytime you play any good offense, if you can keep the big plays to a minimum that always helps," Fangio said. "If you can take the ball away a couple times that always helps. You've got to be able to win your one-on-one battles. You've got to be able to deal with this guy scrambling around and creating. He's going to do that in every game he ever plays."
The Bears no doubt will have to generate consistent pressure Thursday night to beat Rodgers in back-to-back games for the first time ever. Outside linebacker Willie Young has provided most of the pass rush the past two weeks, recording three sacks against the Colts and two versus the Jaguars.
"He's winning his one-on-one battles more times than he's not," Fangio said. "He's playing with a lot of confidence and a lot of aggressiveness and assertiveness. He's been a guy that's been a leader through example for the defense, making good plays and playing with a lot of energy."
The return of outside linebacker Pernell McPhee would give the defense even more energy Thursday night. But it's unclear whether the veteran will be able to play or how much of an impact he would make if he does suit up.
McPhee spent the first six weeks of the season on the physically unable to perform list following surgery to repair a knee injury that slowed him last November and December. He returned to practice last Friday and participated in the team's light workout Tuesday.
Fangio isn't sure exactly what McPhee will add to the defense when he steps back onto the field.
"I don't know, to be honest with you," Fangio said. "We've got to see how he's moving around. All we've had with him was last Friday, which was a low-tempo Friday practice with no pads, and this week we'll be doing very low-tempo in practice, so I don't know."
One thing that Fangio does know is that he won't be able to run McPhee on and off the field against the Packers.
"Not in this game," Fangio said. "This team does no-huddle a lot and you guys have seen from watching them play over the years what [happens] if you try to substitute at the wrong time. So he's got to be able to fill in and play just like everybody else."