GREEN BAY, Wis. – The offense's poor performance in the Bears' disappointing 23-10 loss to the Packers Thursday night at Lambeau Field was a group effort.
"It's a combination of everything really," said coach Lovie Smith. "We didn't have good enough protection. We probably made a couple bad decisions and the receivers didn't get open as much as we needed to. We didn't get the running game going to help the passing game. All of those things didn't work for us tonight."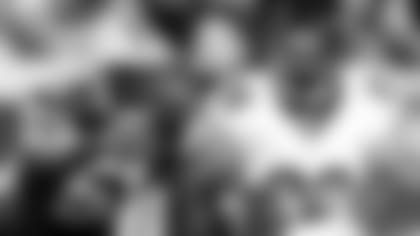 Matt Forte rushed for 31 yards on seven carries in Thursday's loss to the Packers.
Jay Cutler threw four interceptions and was sacked seven times. The offense mustered only 168 yards and didn't get into the end zone until midway through the fourth quarter after cornerback Tim Jennings had returned an interception 20 yards to the Green Bay 24.
"We never got a rhythm going at all," Smith said. "You have to have a few positive plays and we never got to that point until the end when we scored the late touchdown. But even from there, we needed to answer again. So throughout the night we never got into a rhythm to do much."
Outside linebacker Clay Matthews led Green Bay with 3½ sacks as the Packers rebounded in a big way following last Sunday's 30-22 season-opening loss to the San Francisco 49ers.
"You have to give them a lot of credit," Smith said. "We're talking about what we didn't do. A lot of things they did well. They didn't play as well as they wanted to last week and they came back this week."
Tough loss: Bears running back Matt Forte left Thursday night's game with an ankle injury on the opening drive of the second half. Forte was injured when his ankle bent awkwardly under Packers defensive back Charles Woodson on a 15-yard reception.
"The extent of the injury we don't know right now," Smith said. "But he couldn't finish the game."
In just over a half, Forte rushed for 31 yards on seven carries and caught four passes for 49 yards.
Enough Ced: Former Bears running back Cedric Benson rushed for 81 yards on 20 carries and caught four passes for 35 yards against his old team. Benson, who signed with the Packers Aug. 12, was limited to 18 yards on nine attempts last Sunday in Green Bay's season-opening loss to the San Francisco 49ers.
Benson played three seasons with the Bears after arriving as the fourth overall pick in the 2005 draft. He ranks 25th on the club's all-time rushing list with 1,593 yards on 420 carries. In his only other game against the Bears, Benson rushed for a career-high 189 yards on 37 attempts in leading the Bengals to a 45-10 victory Oct. 25, 2009 in Cincinnati.
Roster report: The only Bears player to miss Thursday night's game with an injury was tight end Kyle Adams, who hurt his shoulder in last Sunday's season-opening win over the Colts.
Other Bears inactives were receiver Dane Sanzenbacher, safety Jeremy Jones, guard/center Edwin Williams, defensive tackle Matt Toeaina, tackle Jonathan Scott and defensive tackle Nate Collins.
Cornerback Charles Tillman started Thursday night despite being listed as questionable with a shin injury that knocked him out of the season opener against the Colts. Tillman forced and recovered a Green Bay fumble in the third quarter.
The Packers played without receiver Greg Jennings (groin), cornerback Davon House (shoulder), running back James Starks (toe) and linebacker Terrell Manning (concussion). Other Green Bay inactives were receiver Jarrett Boykin and safety Sean Richardson.
Skid continues: With Thursday night's defeat, the Bears have now lost five straight games to the Packers. The Bears went 7-3 against Green Bay in Smith's first five seasons as coach from 2004-08, but are just 1-7 since 2009, including a loss in the 2010 NFC Championship Game.