ST. LOUIS – It's difficult to say whether their awful start, porous run defense or costly penalties were most to blame. But all three combined to give the Bears little chance of winning Sunday.
The Bears gave up touchdowns on the Rams' first three possessions, allowed a season-high 258 yards rushing and had three TDs nullified by penalties in a frustrating 42-21 loss in St. Louis.
"You win as a team and you lose as a team," said coach Marc Trestman. "Today, we lost as a team. We lost in all three phases of our football. We didn't play well enough to win."
[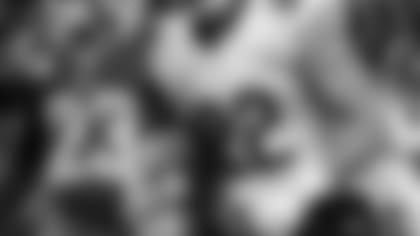 ](http://www.chicagobears.com/multimedia/photo-gallery/Rams-vs-Bears/c2024786-11e3-43c5-98a5-299fa0cff2a4)

Matt Forte tallied a total of 117 yards against the Rams. Click to view photos from the game.
With their fifth defeat in eight games, the Bears (6-5) blew a chance to grab sole possession of first place in the NFC North ahead of the Lions (6-5), who lost to the Buccaneers 24-21 Sunday. The Packers (5-5-1) are a half-game back after tying the Vikings 26-26.
"We had an opportunity to take advantage of what else happened in our division, but we didn't," said receiver Brandon Marshall. "That just goes to show you how tough this game is."
The Rams (5-6) opened Sunday's contest as if they had reincarnated "The Greatest Show on Turf," taking a 7-0 lead on Tavon Austin's 65-yard touchdown run on the third play from scrimmage. Austin took a handoff to the left, pirouetted back to the right and raced down the sideline.
After recovering a Matt Forte fumble at the Chicago 7 on the Bears' first play, the Rams made it 14-0 on Zac Stacy's 1-yard TD run up the middle with 12:36 left in the first quarter.
"They got off to a fast start and we didn't," Trestman said. "That first drive happened fast. We knew things would happen fast. We knew they would be ready for us with two weeks [following their bye] and we talked about that. We didn't get it done."
Bears touchdowns cut the deficit to 14-7 in the first quarter, 21-14 in the second and 27-21 in the fourth, but each time the Rams scored on their subsequent possession to take a two-score lead.
Stacy rushed for 87 yards on 12 carries in the first half before exiting with an injury. Replacement Benny Cunningham then gained 94 of his game-high 109 yards in the second half.
"We've got to play better," said safety Chris Conte. "We'll see what the film says, but there were a lot of plays that we've just got to fit our gaps better and play better as a defense."
The Bears trailed 27-14 early in the fourth quarter when Devin Hester returned a punt 62 yards for a touchdown. But the score was nullified by a holding penalty against Craig Steltz.
The Bears eventually closed the gap to 27-21 on Michael Bush's 1-yard TD plunge, but not until after more than seven minutes had elapsed and there was 7:15 remaining in the game.
The Bears ran five plays from the 1 on the drive without getting into the end zone before Bush's TD. On two snaps, Rams penalties resulted in first downs. Bush scored after Josh McCown's 3-yard TD pass to Martellus Bennett was erased by a holding penalty on Jermon Bushrod.
In the first half, Forte's 7-yard TD run was wiped out by a penalty for an illegal block on Earl Bennett. It was one of 10 penalties for 84 yards against the Bears.
"We still had too many penalties in all three phases," Trestman said. "That really hurt us."
Even with all the mistakes, the Bears still had a chance after climbing to within 27-21. But the Rams responded once again, marching 80 yards on seven plays to extend their lead to 35-21 on Cunningham's 9-yard TD run and Kellen Clemens' two-point conversion pass to Isaiah Pead.
St. Louis added a late touchdown when Robert Quinn sacked McCown, forcing a fumble that Quinn scooped up and returned 31 yards for a touchdown.
McCown then threw his first interception of the season with 1:25 to go. But he played well most of the game, completing 36 of 47 passes for 352 yards and a 102.4 passer rating. McCown threw TD passes of 7 yards to Martellus Bennett and 3 yards to Marshall to keep the Bears close.
But their rally fell short and they headed home determined to rebound from a frustrating loss.
"We know we've got work to do, there's no doubt about it," Trestman said. "Our guys are up for it. We've got a strong hungry football team that is passionate about playing the game, practicing the game and winning, and I expect that we're going to get over it. We've got to get over it quickly and by Wednesday they'll be back at it ready to go to work."