GREEN BAY, Wis. – The Packers mixed the element of surprise with perfect execution to stun the Bears with a pivotal trick play in Thursday night's NFC North showdown at Lambeau Field.
The Bears trailed only 3-0 late in the first half when the Packers set up for a 45-yard field goal. Holder Tim Masthay, Green Bay's punter, flipped a shuffle pass to tight end Tom Crabtree, who raced 27 yards for a touchdown to put the Packers ahead 10-0 en route to a 23-10 win.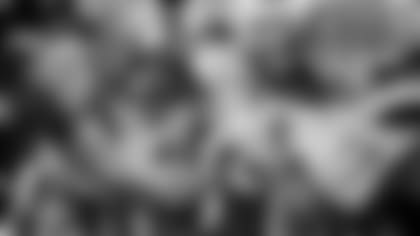 Tom Crabtree celebrates his first-half TD with a Lambeau leap Thursday night.
"The fake field goal took momentum from us," said coach Lovie Smith. "It was a good call by them. They executed the play to perfection. Normally when a play works, it's a heck of a job by the opponent, and that's what happened tonight."
The Bears had all of their players up on the line of scrimmage on the play.
"We were trying to block it," said cornerback Charles Tillman. "I think that would have been a good game-changer for us if we'd have blocked it. Obviously they got the better end of it by running that fake on us. It was a great call on their part and a great scheme. It was a good call for that particular style of block that we had set up."
Playing takeaway: Tillman and fellow starting cornerback Tim Jennings both generated takeaways. Tillman punched the ball away from tight end Jermichael Finley after a four-yard reception and returned the fumble one yard in the third quarter. Jennings later intercepted his third pass of the season, establishing a career high after just two games.
Since Smith became coach in 2004, the Bears have recorded the most takeaways in the NFL with 273. During that time they rank second in interceptions with 161 and second in opponent fumble recoveries with 117.
The Bears defense also registered five sacks of Aaron Rodgers, two by Julius Peppers, 1½ by rookie Shea McClelllin, one by Henry Melton and half a sack by Corey Wootton.
"The defense did some good things, keeping them to field goals early on," Smith said. "Of course right at the end we cracked and broke on the one touchdown they had. But I thought they did some good things, kind of keeping us in the game, giving us an opportunity."
Under the lights: Thursday night's game in Green Bay was the first of five prime-time contests in a nine-game stretch for the Bears. They will make three appearances on Monday Night Football, visiting Dallas Oct. 1, hosting the Lions Oct. 22 and playing in San Francisco Nov. 19. They will also appear on Sunday Night Football against the Texans Nov. 11 at Soldier Field.