SAN FRANCISCO — Road trips to San Francisco have been an absolute nightmare for the Bears since they won the Super Bowl in 1985, and Monday night was no different.
Replacing the concussed Alex Smith at quarterback, Colin Kaepernick performed more like 49ers legends Joe Montana and Steve Young than a second-year pro making his first NFL start.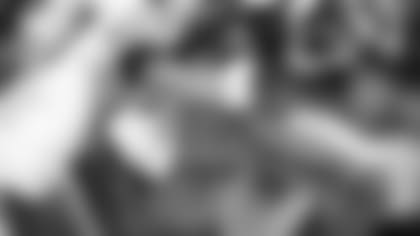 Bears safety Chris Conte tries to bring down 49ers tight end Vernon Davis.
Kaepernick torched the Bears defense, leading the 49ers to two touchdowns and two field goals on their first four possessions as San Francisco stormed to a 20-0 lead en route to a 32-7 win.

"It was a tough night for us," said coach Lovie Smith, whose team was outgained 355-143. "You have to give the 49ers a lot of credit. They started fast and really kept us off balance throughout."

Kaepernick, a 2011 second-round pick from Nevada, completed 10 of 12 passes for 178 yards and one touchdown on the 49ers' first four drives, including gains of 57, 32, 23, 22 and 20 yards.

"They had a quarterback that hadn't played an awful lot, but he was on," Smith said. "He looked like a seasoned vet from the start of the game."

After David Akers' 32-yard field goal on the game's opening possession, Kaepernick rainbowed a 57-yard pass to Kyle Williams, setting up a three-yard touchdown toss to Vernon Davis on the next play, giving the 49ers a 10-0 lead with 6:14 left in the first quarter.

San Francisco (7-2-1) widened the margin to 20-0 in the second quarter as Kendall Hunter capped a 96-yard drive with a 14-yard touchdown run and Akers booted a 37-yard field goal for the 49ers, who outgained the Bears 249-35 in the first half.

"We were lucky to only be down 20-0 at the half," Smith said.

With Jay Cutler unable to play due to a concussion he suffered in last Sunday night's loss to the Texans, Jason Campbell struggled in his first start of the season, completing 14 of 22 passes for 107 yards with one touchdown, two interceptions and a 52.7 passer rating.

After not allowing any sacks to the Texans, the Bears yielded six Monday night, including 5.5 by linebacker Aldon Smith, a single-game record for a Chicago opponent.

"It was very hard," Campbell said. "Give their defense credit. They did what they do best. They rushed pretty good, they hit pretty good and they covered pretty good. It definitely wasn't our best effort by any means."

The 49ers picked up in the second half where they left off in the first as Kaepernick hit Michael Crabtree in the left corner of the end zone for a 10-yard TD pass to make it 27-0. Kaepernick finished the game completing 16 of 23 passes for 243 yards with two TDs and a 133.1 rating.

The Bears answered as Brandon Marshall leaped high to haul in a 13-yard TD pass from Campbell, cutting the deficit to 27-7 with 3:43 left in the third quarter.

Akers added a 32-yard field goal and the 49ers recorded a safety when they sacked Campbell, forcing a fumble that guard Chilo Rachal recovered in the end zone.

In losing their second straight game for the first time this season, the Bears (7-3) dropped into a first-place tie with the Packers (7-3) in the NFC North. The Vikings (6-4), who are one game behind the division leaders, will visit Soldier Field on Sunday.

"We're disappointed in the loss, but it does count as just one loss," Smith said. "We still have seven wins. We're a 7-3 team right now with a big game coming up against Minnesota. We have to leave this game as quick as we possibly can because there's nothing good really to talk about."

That's seemingly been the case for a long time in San Francisco. The Bears are now 0-8 against the 49ers at Candlestick Park since 1985, losing the previous seven contests by scores of 41-0, 26-0, 52-14, 44-15, 17-0, 49-7 and 10-6.

"We all from top to bottom have got a lot of work to do," Campbell said. "We just need to use this as some sort of wakeup call. We need to continue to grow in order to get to where we want to be.

"San Francisco, they're a team that is going to be in the playoffs. They're a team we'll probably see again. So we need to really use this tape and be hard on ourselves and try to find a way because this is the type of team you'll see again."