OAKLAND — Judging by their performance in the first half of Friday night's preseason game against the Raiders, the Bears appear to be more than ready to begin the regular season.
The offense scored on its first four possessions and five of six overall, while the defense generated two interceptions as the Bears stormed to a 27-0 lead en route to a 34-26 win in Oakland.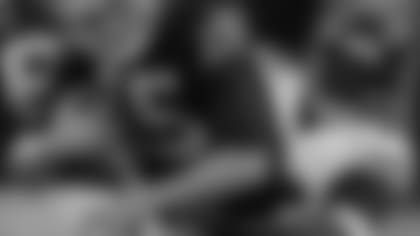 ](http://www.chicagobears.com/multimedia/photo-gallery/Raiders-vs-Bears/abfa68df-30ba-4496-b80f-e15ca7d65689)
Charles Tillman sacks Matt Flynn in the first half of the Bears' 34-26 preseason win in Oakland.
Click to view photos from the game.
But rather than patting themselves on the back after dominating on both sides of the ball, Bears starters spoke primarily about needing to get better following the game.
"It was a good outing for everybody; special teams, offense and defense in the first half," said quarterback Jay Cutler. "But it is preseason. We're starting the season 0-0 like everybody else and we've got to get back to work next week. We can't get too high on this game. We made some mistakes and we're going to go back and look at them."
"We wanted to come in here and continue what we did last week; start fast and get in rhythm, and I think we did that," added center Roberto Garza. "But it's a preseason game and we're getting ready for the Bengals Week 1. It's a step. We've still got a long way to go and a lot of things to work on."
In an outing that general manager Phil Emery no doubt envisioned when he hired Marc Trestman as head coach in January, the Bears offense scored touchdowns on three straight possessions.
One play after Tim Jennings' diving interception of a Matt Flynn pass, Matt Forte turned a short swing pass from Cutler into a 32-yard touchdown, dashing through the Raiders defense while aided by blocks from Alshon Jeffery, Martellus Bennett and Brandon Marshall.
Forte's 35-yard run on the first play of the Bears' next drive set up Michael Bush's 10-yard touchdown. After the Raiders went three-and-out, Bush capped a 12-play, 74-yard drive with a 1-yard TD plunge, giving the Bears a 24-0 lead with 10:09 left in the second quarter.
"We moved the ball well," Cutler said after the Bears improved their preseason record to 2-1. "The offensive line did a great job of pass pro and run blocking. We got Matt started early. I thought we ran the ball really efficiently. We sprinkled it around to some different guys."
The teams traded long field goals with Robbie Gould hitting a 53-yarder to make it 27-0 before Sebastian Janikowski answered with a 58-yarder as time expired in the first half.
Removed at halftime along with most Bears starters, Forte rushed for 76 yards on six carries and caught two passes for 33 yards. Jeffery had seven receptions for 77 yards. Cutler completed 12 of 21 passes for 142 yards with one touchdown and a 93.8 passer rating while not being sacked.
"The offensive line did a great job," Bennett said. "Cutler did a great job getting them on the right guys in protection; him and Garza had been working on that all week. The backs did a great job protecting and then the other part of protection is the receivers getting open. I thought those guys did a good job of getting open quickly enough so that Jay didn't have to hold onto the ball."
Cutler's stats would have been much better had he not had six passes dropped-three by Marshall, two by Bennett and one by tight end Fendi Onobun.
Raiders backup quarterback Terrelle Pryor made a strong case for the starting job, producing two touchdowns and one field goal in the third quarter to draw Oakland to within 27-20.
But by then Bears starters on both sides of the ball were already out of the game-with the exception of rookies Kyle Long, Jordan Mills and Jon Bostic, who played into the third quarter.
Another Bears rookie-undrafted free agent running back Michael Ford-seemingly enhanced his chances of earning a roster spot with a dazzling 15-yard touchdown run early in the fourth quarter. Ford spun away from two defenders to give the Bears a 34-20 lead.
The Raiders made it 34-26 on Matt McGloin's 5-yard touchdown pass to running back Jamize Olawale before failing on a two-point conversion attempt with 4:07 to play in the fourth quarter.
Bears linebacker Jerry Franklin iced the victory by intercepting a McGloin pass on fourth-and-23 from the Oakland 46 with 1:12 remaining.
"It's always good to win," Trestman said. "It's good to see our first units go out there and play hard. We came a long way to get better and for the football team to win a game, and we did both. We got better. [But] we certainly have things that we can correct and get better at.
"We've seen signals of the kind of team we could be, but we're certainly not going to get ahead of ourselves either. We know we've got a lot of work to do because we see each other every day in practice. We know the work that's got to be done collectively and individually."