The Philadelphia Eagles defense ranks 30th in the NFL in total yards. But the unit keeps opponents out of the end zone and will present some unique challenges for the Bears Sunday night.
"Philly has a dynamic front because they play this 3-4 defense but they move a lot," said offensive coordinator Aaron Kromer. "Most teams just sit in their gaps and stuff the run that way. The Philadelphia defense is very athletic, and even though they're in this 3-4 defense, they're moving, they're stunting they're blitzing, they're pressuring.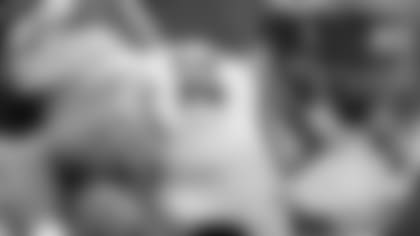 Bears running back Matt Forte has rushed for over 100 yards in three straight games for the first time in his six-year NFL career.
"It looks on tape like their whole goal is just to get the ball back for the offense. They're going to try to force turnovers. They're going to do everything to confuse you, and so everybody has to follow their rules closely in the game and stick with their technique to have success."
The Eagles defense has held 9 of its last 10 opponents to 21 points or less. The unit is led by linebackers DeMeco Ryans (team-high 165 tackles) and Trent Cole (team-best 10 tackles-for-loss.)
"The whole defense is difficult to get a grasp on," said quarterback Jay Cutler. "It takes some time to really get a feeling for what they're doing and you still don't really know exactly what they're doing. They're moving around a lot, a lot of different front structures, a lot of different coverages, a lot of blitzes coming from different places, so it's challenging for us so far."
And how do the Bears counter against Philadelphia's wide variety of looks?
"Sometimes you've got to fight crazy with crazy and attack them a little bit," Cutler said. "Sometimes you've just got to protect it up. So we're going to do some stuff that we're comfortable doing and see how it turns out."
It turned out just fine last Sunday for the Vikings, who compiled 455 yards and 29 first downs in snapping the Eagles' five-game winning streak with a 48-30 win in Minnesota.
Playing without injured running back Adrian Peterson, quarterback Matt Cassel completed 26 of 35 passes for 382 yards and two touchdowns. Third-string running back Matt Asiata rushed for just 51 yards on 30 carries, but he scored three TDs.
"Minnesota took advantage of situations throwing the ball and running the ball," Kromer said. "They stuck to what they believe in, and even with a backup running back they were able to create some holes in the running game as the game went on.
"But every game you watch with Philadelphia, there are tackles-for-loss because of their front and because of the way they play defense, and there are turnovers."
The Eagles are tied for eighth in the NFL with 26 takeaways.
"That's the one thing we have to avoid in this game is turnovers," Kromer said. "We have to do a good job with ball security, like every game. But when you play a team that emphasizes that their goal is to get the ball back for the offense, you have to make sure you're really on top of your game."