The Bears will face the NFL's No. 1-ranked passing attack Monday night when they visit quarterback Philip Rivers and the San Diego Chargers.
A five-time Pro Bowler, Rivers leads the league in passing yards with 2,753.
"He's an excellent quarterback," said Bears defensive coordinator Vic Fangio. "He throws the ball very well; well short, intermediate and deep. He's got great command of their offense. He does a lot of things at the line of scrimmage for them, getting them in and out of plays. He's very accurate. He's definitely in the top upper echelon of the quarterbacks in the league."
The Bears pass defense ranks fourth in the NFL and has held five of seven opponents under 200 yards this season, most in the NFL. Those games were against the Packers (189 yards), Cardinals (185), Raiders (173), Chiefs (170) and Vikings (187).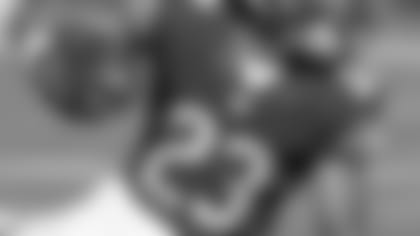 Cornerback Kyle Fuller tallied his first interception of 2015 against the Vikings.
The Chargers suffered a big blow when leading receiver Keenan Allen was lost for the season with a lacerated kidney last Sunday against the Baltimore Ravens. Allen has 67 receptions for 725 yards and four touchdowns. The 67 catches are tied for the second most in NFL history through eight games.
But Rivers has several other options. In fact, the Chargers have five other players with at least 21 catches, a 10.8 yards-per-catch average and two touchdowns this season. The group consists of tight ends Antonio Gates and Ladarius Green, receivers Stevie Johnson and Malcom Floyd, and running back Danny Woodhead.
"They're all in double-digit average per catch," Fangio said. "Losing a good player like [Allen] sets them back a little bit. But it won't change their offense one bit. And with a quarterback like Rivers, the receivers look even better."
Woodhead has 39 receptions for 443 yards and two touchdowns and 52 rushes for 197 yards and two TDs.
"He's a really good receiver out of the backfield," Fangio said. "He's got good quickness. He's dangerous on the screens and the check downs and he's a competent runner when they hand it off to him. He's one of those small, quick guys, much like they had years ago in [Darren] Sproles. He's a really good player."
A future Hall of Famer, Gates remains productive at the age of 35. He and Rivers have combined for 73 TD passes, the most by a duo in NFL history.
"He and the quarterback Rivers have great karma," Fangio said. "They read the option routes. They're always on the same page. It doesn't matter how well you run or don't run. You've got to cover the guy and he has a great catch radius. And he and Rivers have been playing catch for a long time. So they're really good."
Despite the success they've had through the air, the Chargers (2-6) have lost four straight games with their only victories this season coming against the Lions and Browns in San Diego.
The Chargers frequently employ a no-huddle offense, which could force the Bears to limit their substitutions.
"You just realize that you may have to stay in what you're in on third down sometimes," Fangio said. "You might not be able to freely sub as you can normally. You've got to be prepared to stay in what you're in sometimes."