Their name is the Jets, but the football team the Bears will face Monday night at MetLife Stadium in New Jersey most definitely excels on the ground.
In fact, the Jets enter Week 3 ranked first in the NFL in both run offense and run defense. The last team to lead the league in both categories was the Minnesota Vikings at the end of the 2007 season.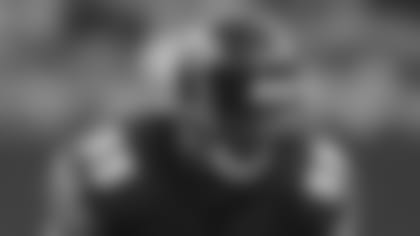 Lance Briggs and the Bears will look to slow down the NFL's top-rated running game when they face the Jets Monday night.
Offensively, the Bears rank 30th in the NFL in rushing, averaging just 66 yards per game. Jay Cutler threw touchdown passes on four straight possessions in last Sunday night's comeback win over the 49ers, but Kyle Long was limited to 21 yards on 12 carries.
"I was embarrassed," said right guard Kyle Long. "We need to run the ball. I know we got the win on the road and it was big. I'm sure everybody else in our room will echo that. So will Matt. You need to run the ball in the National Football League. We'll be better at that."
The Jets run defense has permitted an average of only 52.5 yards per game this season and hasn't allowed an opposing running back to gain more than 43 yards.
"It won't be easy," said coach Marc Trestman. "What we try to do is move the football and score touchdowns, and we're not opinionated in how we get that done. The fact of the matter is this is historically and I think will be one of the better run defenses in the league that we're going to face.
"We faced a great one last week and we're up against a very, very difficult front of highly talented players plus scheme, so it makes for a heck of a challenge and we've got a lot of work to do."
Jets coach Rex Ryan relies on a defense that is led by linemen Muhammad Wilkerson, Damon Harrison and Sheldon Richardson.
"This is a typical Rex Ryan defense," said offensive coordinator Aaron Kromer. "He's going to make sure you can't run up the middle first by the type of personnel that he gets. They're huge, they're strong and they're powerful. There are not many yards to be gained."
That, of course, doesn't mean that the Bears will quit trying.
"You make every effort to not concede the run," Kromer said. "You have to continue to keep a balance of sorts, understanding that you may not gain a lot of yards per carry. But if you just drop back and pass it the whole game, they will get active and hit your quarterback."
Defensively, the Bears rank 27th against the run. After yielding 193 yards on the ground in a Week 1 loss to the Buffalo Bills, they were much better against the 49ers, permitting 129 yards.
The Jets feature a strong 1-2 punch in running backs Chris Ivory (23 carries for 145 yards and 2 touchdowns) and Chris Johnson (25-89). Ivory runs with strength and power, while Johnson is faster and more elusive. Quarterback Geno Smith is also a threat as a runner on read-option plays. The second-year pro has rushed for 64 yards on 17 carries, including a 1-yard TD last Sunday in Green Bay.
"These guys take pride in running the football," said defensive coordinator Mel Tucker. "They've got a number of really good players that they can give the ball to and get production in the run game. They have a very physical offensive line, a hard-nosed, ground-and-pound-type of mentality. You can see that on tape with these guys."
So how do the Bears contain the Jets on the ground?
"It's the same answers each and every week," Trestman said. "No. 1, we've got to be assignment right. You hear the same language every week. Everybody's got to have their gap. Everybody's got to know where to be. It's assignment football; it's back to what we were doing in the OTAs.
"Yes, we have improved. To continue we've got to bring the same kind of passion and emotion and yet we still have to play assignment football."