The Bears will battle the Packers Monday night at Lambeau Field looking to grab a share of first place in the NFC North and end a six-game losing streak to Green Bay.
The longtime rivals have been heading in opposite directions with the Bears (4-3) losing three of four after opening 3-0 and the Packers (5-2) winning four straight following a 1-2 start.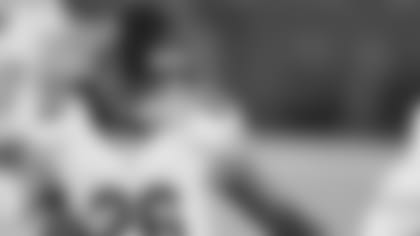 Tim Jennings returns an interception against the Packers last season at Lambeau Field.
Returning to action after their bye week, the Bears will play without quarterback Jay Cutler (groin) and linebacker Lance Briggs (shoulder), both of whom are expected to be sidelined for several weeks after suffering injuries Oct. 20 in a loss to the Redskins.

Backup quarterback Josh McCown will make his first start since the 2011 season finale. The 11-year NFL veteran excelled in relief of Cutler against the Redskins, completing 14 of 20 passes for 204 yards with one touchdown and a 119.6 passer rating. McCown led the Bears to three touchdowns and one field goal on four straight possessions in the second half.

McCown started the next-to-last game in 2011 in Green Bay, completing 19 of 28 passes for 242 yards with one TD, two interceptions and a 76.8 passer rating in a 35-21 loss. The 21 points are the most the Bears have scored in their last 11 meetings with the Packers.

McCown will be surrounded by more weapons Monday night in receivers Brandon Marshall and Alshon Jeffery and tight end Martellus Bennett, none of whom was with the team in 2011.

The Bears entered Week 9 ranked second in the NFL in points per game (30.4) behind only the Denver Broncos and are on pace to set a franchise record for most points in a season.

Unfortunately, the Bears are also on pace to set a team mark for most points allowed in a season. They've permitted 21 or more points in each of their first seven games for the first time ever and at least 40 points in back-to-back road contests for the first time since 1969.

The Bears have surrendered seven touchdown drives of at least 80 yards in their last two games. The Packers, meanwhile, did not punt in last Sunday night's 44-31 win over the Vikings, generating four touchdowns and three field goals on seven series before kneeling on the ball to end the game.

The Packers rank third in the NFL in points per game (30.3) and are led by quarterback Aaron Rodgers, whose 105.2 career passer rating is the best in league history. This season he has thrown for 2,191 yards with 15 touchdowns, four interceptions and a 108.0 rating.

The Bears rank last in the NFL with nine sacks, with the defensive line generating only four of those. Briggs and fellow linebacker D.J. Williams, both of whom are out with injuries, share the team lead with two sacks apiece.

The Bears are expected to start two rookie linebackers Monday night in Jon Bostic and Khaseem Greene, who has played only one snap on defense so far this season.

For the first time in recent memory, the Bears will also have to contend with a potent Packers running game. With Eddie Lacy (112 carries for 446 yards and three touchdowns) and James Starks (41-244-2), Green Bay ranks third in the NFL in rushing.

The Packers have been nearly unbeatable at home, winning 10 straight and 23 of their last 24 games. The Bears have dropped five in a row at Lambeau Field, last winning in 2007.