Needing a victory over the Eagles Sunday night in Philadelphia to bolster their playoff chances, the Bears will look to contain one of the NFL's most explosive offenses.
The Eagles are potent on the ground and in the air; running back LeSean McCoy leads the league in rushing with 1,343 yards, while quarterback Nick Foles tops the NFL with a 117.0 passer rating.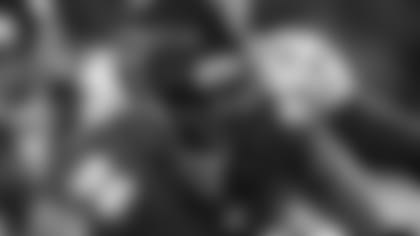 The addition of veteran defensive tackle Jeremiah Ratliff has improved the Bears' run defense.
"Everyone is at the point of attack on every play," defensive coordinator Mel Tucker said Wednesday after practice. "You just can't hone in on just one thing. So you have to be sound in the run game and in the pass game, and you have to prepare for both."
McCoy has rushed for 217, 184, 158, and 155 yards in games this season and leads the NFL with 1,850 yards from scrimmage, having caught 45 passes for 507 yards.
"He's certainly special," said coach Marc Trestman. "He's such an explosive player, he can do it all. He's certainly one of the best [backs] in the league. He's a difference-maker. We're going to have to know where he is and we're going to have to do whatever we can to neutralize him."
"He cuts on a dime," said defensive lineman Corey Wootton. "There aren't too many guys who can cut like him in the league. You just see the movements he makes and how he makes people miss, so it's crucial that we rally to the ball, get a bunch of guys there and try to get the ball out."
Ranked No. 1 in the NFL in rushing, the Eagles possess a huge advantage on paper against a Bears run defense that remains last in the league. But there were signs of progress last Sunday when the unit surrendered only 93 yards on the ground in a win over the Browns after yielding an average of 204 yards the previous seven games.
"Collectively, we tackled better," Trestman said. "Our fits were better. Our edges were better. Don't get me wrong; it's not where we want to be, but it did improve.
"It's good that we're ascending. Certainly we've got to play better this week. We're playing against a very explosive team that stretches the field both horizontally and vertically, in the running game as well as the passing game. This is really going to test our defense this week, no doubt about it."
Foles, who replaced Michael Vick as the Eagles' starting quarterback, has passed for 2,398 yards with 23 touchdowns and two interceptions. His favorite target is receiver DeSean Jackson, who has 75 receptions for 1,275 yards and nine TDs.
The good news for the Bears is that linebacker Lance Briggs could return after missing the last seven games with a fractured shoulder. The seven-time Pro Bowler practiced on a limited basis Wednesday. A decision about his availability is expected to be announced Friday.
"It would be huge," Wootton said. "I think Lance is definitely one of the best linebackers in the league. Before he got hurt, he was having an incredible season, so it would be great to have a guy like him, a perennial Pro Bowler, back."
Briggs would pair with veteran defensive tackle Jeremiah Ratliff, who has improved each week since making his Bears debut Dec. 1 against the Vikings after missing over a year following groin surgery. Ratliff was credited with three tackles, including a tackle-for-loss versus the Browns.
"He was very active in the game," Tucker said. "He made some plays in the run game. He did a nice job in the pass rush, creating some pressure and some pocket pocket collapse. That was huge. He brings great energy to the group. He's very confident and guys are confident in him. He's a great guy to have out there. I'm really glad we have him."
The Eagles lead the NFL in rushing yards per game, rushing yards per attempt, plays of 20-plus yards, pass plays of 20-plus yards, touchdowns of 20-plus yards and yards per first down play. They employ an up-tempo attack that limits defenses from making substitutions.
"We just have to make sure we're on the same page," Tucker said. "We have to get the call in quickly. We have to get aligned very quickly and make sure we communicate. Then when the ball is snapped, we've got to go play."
Of greater concern to the Bears is defending the Eagles' zone-read plays. In a loss to the Redskins Oct. 20, the defense fit only two of 10 zone-read runs correctly.
"It's very similar to the Redskins type of offense," Wootton said. "They try to confuse you a little bit, so it's crucial that we play gap sound and we have our option responsibilities because you see on film when teams weren't doing what they were supposed to they gash them a little bit.
"Last time against the Redskins we didn't fit it the way we needed to. A big focus this week has been going over repetition on what our responsibilities are on the option-who's got the dive, who's got the quarterback, who's got the pitch. We've got to stay gap-to-gap sound on that."