When the Bears' 2014 regular-season schedule is released by the NFL sometime next month, it will be filled with former players and coaches.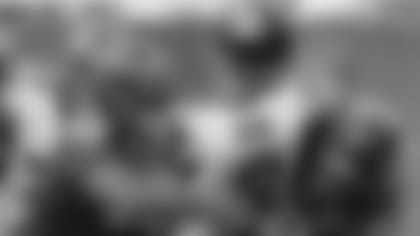 Defensive linemen Julius Peppers and Henry Melton pressure Falcons quarterback Matt Ryan.
The Bears will play games against all five of their players who have signed with other teams in free agency. They'll face defensive ends Julius Peppers (Packers) and Corey Wootton (Vikings) at home and on the road; defensive tackle Henry Melton (Cowboys) and quarterback Josh McCown (Buccaneers) at Soldier Field; and return specialist Devin Hester (Falcons) in Atlanta.
McCown won't be the only familiar face on the Tampa Bay sideline. The Buccaneers are led by former Bears coach Lovie Smith, who has added seven of his former Bears assistants to his new staff: Kevin O'Dea (special teams coordinator), Gill Byrd (cornerbacks), Andrew Hayes-Stoker (receivers), Hardy Nickerson (linebackers), Mike Phair (assistant defensive line), Mikal Smith (safeties) and Tim Spencer (running backs).
Former Bears defensive coordinator Rod Marinelli, who serves in the same capacity with the Cowboys, will be coaching Melton in Dallas and accompanying him to Soldier Field.
In addition to Hester, the Falcons feature former Bears offensive coordinator Mike Tice, who is Atlanta's offensive line coach, and guard Gabe Carimi, the Bears' 2011 first-round draft pick.
The Bears will also play games against three former players who are head coaches in Jim Harbaugh (49ers), Ron Rivera (Panthers) and Sean Payton (Saints), and one who is a defensive coordinator in Leslie Frazier (Buccaneers).