The Bears defense will face a difficult challenge Monday night against a Saints offense that ranks third in the NFL and features quarterback Drew Brees and tight end Jimmy Graham.
An eight-time Pro Bowler and Super Bowl XLIV MVP, Brees remains an elite quarterback who leads the NFL with a 69.3 completion percentage. He has passed for 3,983 yards with 28 touchdowns, 12 interceptions and a 98.8 passer rating that ranks eighth in the league.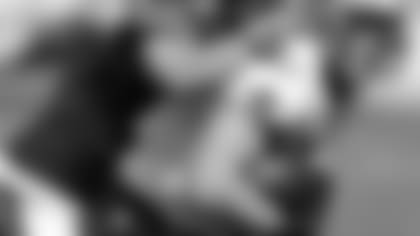 Bears safety Chris Conte tackles Saints tight end Jimmy Graham last season. Conte is not expected to play in Monday night's game due to a back injury.
"He's a very accurate passer," said Bears defensive coordinator Mel Tucker. "He has excellent pocket presence. He's a fierce competitor. He can make all of the throws. He has tremendous command of their offense. He's got some good weapons around him."
His most dangerous weapon is still tight end Jimmy Graham, a 6-7, 265-pounder who possesses a rare combination of size, speed and athleticism. Graham was nearly unstoppable last season at Soldier Field, catching 10 passes for 135 yards in a 26-18 win over the Bears.
"He's big. He's fast. He's strong," Tucker said. "He has a big catch radius. They use him all over the formation to create mismatches. They try to get him on a linebacker. They try to get him on a safety, try to get him on a corner. He's toward the top of the league in terms of run-and-catch tight ends. He's a match-up problem on every film that you put in."
The Bears defense has struggled against the NFL's top tight ends this season, allowing the Patriots' Rob Gronkowski to catch nine passes for 149 yards and three touchdowns and the Panthers' Greg Olsen to haul in six passes for 72 yards and two TDs.
"They're usually a tougher matchup for the linebackers because of the speed and agility—for some linebackers, not all," Tucker said. "And then it's the size mismatch on the defensive backs whether they're corners or safeties. There lies the matchup dilemma that you face with most of the really good run-and-catch tight ends. Typically, offenses do a really good job with formations. They put them in different positions to work on those mismatches or give them free access."
Complicating matters for the Bears defense is that they have four starters on injured reserve in cornerback Kyle Fuller, linebackers Lance Briggs and D.J. Williams, and tackle Lamarr Houston. A fifth, safety Chris Conte, is doubtful for Monday night's game with a back injury.
"You lose some experience, obviously, but it has to be a next-man-up mentality," Tucker said. "That's been our approach from the beginning. You don't want to lose good players. You don't want to lose any players. But that's a part of the game. Injuries are a part of the game."
Graham has also been dealing with health issues. Bothered by a shoulder injury since October, he has caught only 12 passes for 101 yards and 2 TDs in his last four games. But that doesn't mean the Bears won't keep a close eye on him.
"It's tough to game plan a player like that," said coach Marc Trestman. "He's a dominant player and we're going to have to move coverage around and do things up front to try to speed up the tempo in terms of getting rid of the football before he can get down the field. But he's going to be a problem with any team. Certainly, we're going to have our hands full with him."
It's vital for the Bears to know where Graham is at all times Monday night.
"They move him around," Trestman said. "He lines up all over the field. He lines up in a wide receiver position. He lines up in there tight. He's very good at double moves. When they see a man-to-man matchup, they're going to try and take advantage of it because there's such a size differential with most of the players that he's up against.
"And they just work him vertically up the field and throw the ball up in the middle of the field and let him make a play even when it's into coverage."